Blended Learning in the Occupied Palestinian Territories
Occupied Palestinian Territories
Children
Disability
Mental health
Projects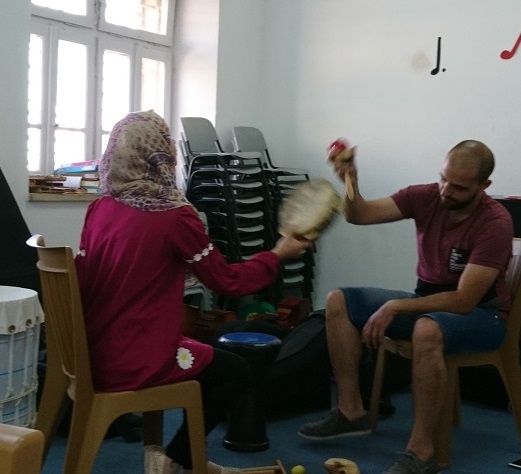 I was up bright and early (4am!) last week for a 140 mile drive to Heathrow. The mission? To fly to Tel Aviv and thence travel to Beit Sahour, Palestine to deliver the Intensive Study Weekend with Alexia. This part of the training is an intrinsic part of the Blended Learning Programme on which Music as Therapy is working jointly with Musicians Without Borders.
I think we were both excited to be teaching together for the first time, and I have to say, I think we made a pretty good team. We stayed in a hotel converted from an old dwelling house in the Old City of Beit Sahour. Breakfast was taken outdoors, with plenty of Arabic coffee and other tasty morsels before walking the 5 minutes or so to the training centre.
The trainees we worked with are local people who are preparing to run music as therapy groups where they work. During their participation in the Blended Learning Programme they will be introducing music as therapy programmes to children accessing the Sounds of Palestine project and other children with special needs who attend the Al Ghirass Centre and at the end of the programme they will have the skills, confidence and experience to keep these music programmes runing into the future. The trainees were so engaged and thoughtful; it really was wonderful to work with them. We had to keep our thinking hats on though , no mean feat in 30C. They kept us on our toes, something that is always such a great experience when you are teaching.
We introduced and developed concepts of attunement, as well as matching and mirroring in music. We showed a number of music therapy clips and were delighted to see how well the trainees could apply what they were learning to what they observed. There was time for role play too on the second day, with some challenging scenarios being presented by trainees. Magical moments included the vocal work we did, giving people confidence to use their voices not just in making creative sounds, but also putting together a pitched musical vocalise.
I hope that our enthusiasm for this work remains with the trainees, and that as they work their way through the tutorials, they are able to hold in mind the work we did together using it as a springboard for their own practical sessions.
Thanks to Fabienne and Ahmad for being such great hosts and arranging everything for us. Having a dedicated space for the training together with a range of instruments really helped to make the training a very rich experience.
Liz Coombes
Related projects
Introductory training
2016

Distance learning programme: OPT 2016

Occupied Palestinian Territories

Children
Disability
Mental health
Young people