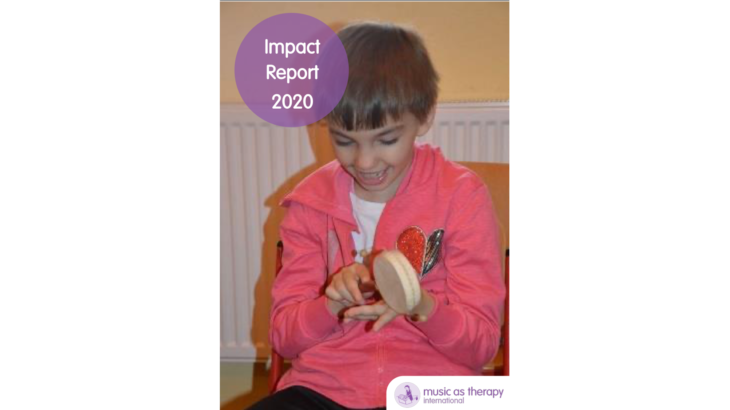 Last January I wrote a blog post on the challenges and importance of accurate impact recording. At the time, we had just launched our three-year strategy, which made specific reference to a number things we wanted to improve, enhance or develop relating to capturing and recording our impact.
The coronavirus pandemic inevitably had considerable impact on aspects of our project delivery both here in the UK and overseas – Something we reflected on in many of our blogs throughout the year. Yet while it hindered our ability to provide training and support in person, it afforded us the opportunity to invest our time in meeting other organisational goals.
Now, with a little over a year having passed since we made our impact tracking, recording and reporting a priority, and to coincide with the release of our 2020 Impact Report, it feels like an appropriate time to provide an update on what we've been doing behind the scenes to improve this vital aspect of our charity operations.
It's a numbers game
Key to getting started was gaining a clearer picture of exactly how many Local Partners we support from year to year. During any project we deliver, we record how many caregivers we train and how many vulnerable children or adults they believe will benefit from access to music as a result. Our network of Partners grows therefore year on year, but there is a natural ebb and flow in the number of Partners we count within our network. People's work – their roles, where they work and who with – changes over time.
We've now been delivering projects on an international scale for over 25 years, and as we grow, so the challenge of keeping track of everyone grows as well. And because of our commitment to sustainability we don't just want to know who joins us to use music during one of our projects. We want to keep track of the legacy of these partnerships: Who keeps using music after we've left, where and how?
As I wrote in my blog back at the start of 2020, there's no point celebrating big numbers if you can't tell the story of the people who make up those numbers. Partly driven by this and partly motivated by compassion for our partners' experiences during COVID, we've made asking them to share their experiences with us as a priority over the past year.
Vital to this was our International Partner Survey which we shared with our Partners in Ethiopia, Georgia, India, Myanmar, Occupied Palestinian Territories, Romania and Rwanda, alongside video messages made by music therapists known to them. From September 2019 through most of 2020 we collected their news, heard their stories and learned more about their places of work. They told us about their use of music and the impact it had on the children or adults they work with, as well as benefits for themselves from our training and support.
The Survey saw us speak to 243 partners, some of whom have been using music for a year, others for more than two decades, giving us greater clarity than ever before on the scale and scope of our quantitative impact. It both confirmed existing impact figures, and updated others, giving us the most accurate current picture. As part of this undertaking, we also began to map out the level of engagement of each of our Partners. Revisiting and updating all the Partner information we were holding gives us renewed confidence to quantify our impact. As I said in my last blog: accuracy equals integrity!
Change is in the air
Alongside this, one of the biggest steps we have taken as an organisation is to introduce a Theory of Change, to take a step back and reassess how we think about what we do. Theory of Change enables organisations to chart anticipated outcomes and longer-term impact you can expect to see from their activities. Having clarity in our how we create change is hugely useful when looking at the qualitative evidence of our impact, too.
We always love hearing the personal accounts, feedback and stories of our Partners. They remind us how powerful music can be, what it means to get to know someone a little better and to feel better equipped to tailor the care or support you provide to them. We know these testimonies evidence the potential of our training model, but explaining how has often left us struggling. Our Theory of Change gives us the tools to do this far more effectively. It articulates the commonalities between our goals, those of our partners, the ways in which music is being used by all involved and the experiences for different service users. As a result, we can pinpoint key details from what our Partners tell us and report our impact more precisely
Honing these outcomes has been the most important, and exacting, element of the process. They needed to reflect what we'd like our training to achieve, while remaining realistic and achievable. After much consideration and fine-tuning, in consultation with our Trustees and Advisory Panel, we are proud to share our current working model (below), which we feel reflects what we are trying to achieve. It's also important to note here that nothing is set in stone. While we feel the current Theory of Change reflects our work today, that's not to say it won't be refined and adapted over time, so we'll also be reviewing our progress and its relevance periodically.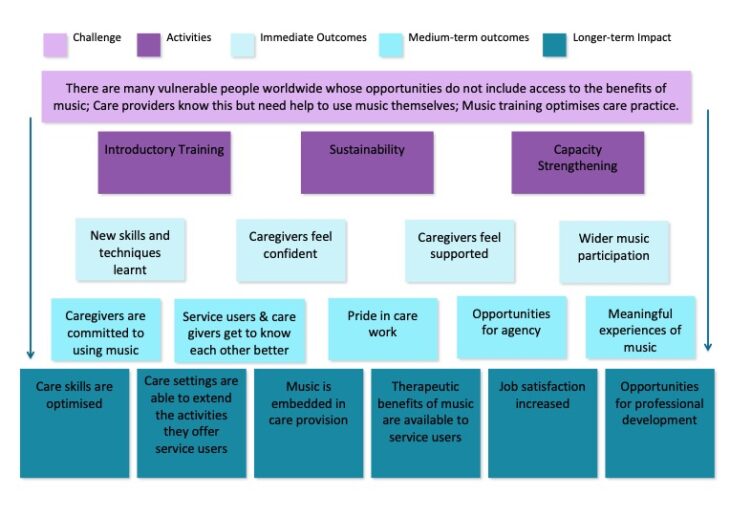 We've already been putting this into practice. The Survey responses provided the first opportunity to ratify the short, medium and long-term outcomes set out in our Theory of Change as impact we can be confident is achievable. Whereas previously we recorded and organised quotes by project and country, can now filter testimonies and feedback from Partners, project participants and other contributors against our Theory of Change outcomes. While a small change, this reshaping has already given us fresh clarity and focus. Seeing this qualitative impact for different projects recorded alongside each other this way, gives us a sense of the bigger picture and of just how many of these outcomes are achieved in our projects. It will help us communicate the value of our work to funders and potential partners, and gives all of us in the team a real sense of achievement, too.
It's all in the telling
Throughout the work we've been doing to update our impact recording we've been led by a desire to bring our Partners' inspirational stories to the fore, as well as to capture the difference any one of our individual projects can make. As well as using updates and news from this year to capture and champion more recent stories, we've been delving back into our library of project proposals, blogs, reports and quote logs to revisit and re-tell some of the stories that have helped shape us as an organisation. All these stories and more will be available on our new website, due to launch this April.
When taken as a whole, I believe we're well on the way to achieving what we set out to do last year, when we made recording and tracking our impact a strategic priority. Our accuracy has improved, our understanding of our impact has been enhanced and we're in the process of communicating our full impact to our supporters, donors and sponsors in a fuller, more effective way. The stories we'll be sharing on the new website are a part of that, but in the meantime, I'd also invite you to read our 2020 Impact Report; as we hope you will all agree, despite the challenges of 2020, there's a whole host of things to be proud of.