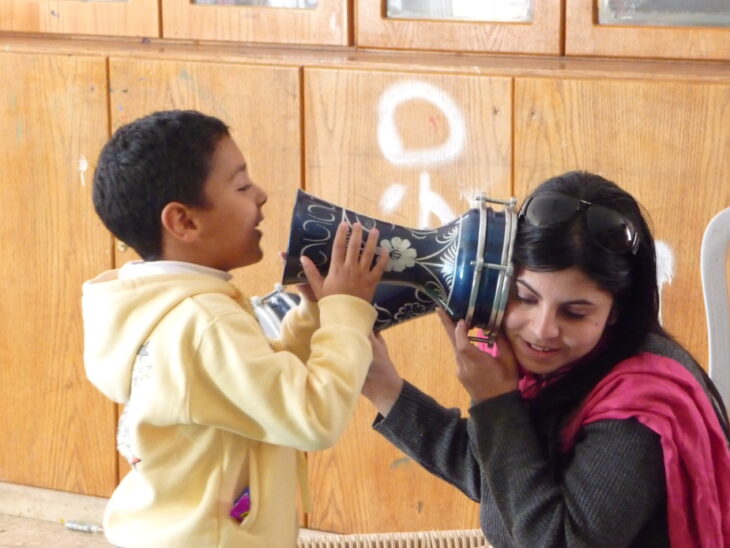 Led by a professional music therapist, each project aims to equip people working at the heart of care with the skills, resources, experience and confidence to run music sessions independently.
On-site skill-sharing
A music therapist trains caregivers in their place of work over the course of six to nine weeks. Working in partnership, we identify project aims and who will take part. Through regular music sessions, our music therapist demonstrates how music can create positive change. Gradually over the course of the project, caregivers take over delivery of these sessions until they are running them independently. You can request a project here.
Distance learning programme
This training model was created for people working with young children with disabilities. The model comprises a series of online tutorials, one practical intensive study weekend, written assignments and a supervised practical assignment. It is currently available in Romania, Occupied Palestinian Territories, Jordan and Myanmar.
Structured training
Our Structured Training model involves a series of teaching sessions designed in response to detailed understanding of the target beneficiaries. This approach is best suited to environments where care is more formal, such as schools and early years settings. You can find out more here.
Online training
A series of instructive and interactive activities designed for specific beneficiary groups. As this model is accessible online without moderation, it can be used as a first step in training, introducing the basic concepts and techniques of our approach.
Featured projects
On-site skill-sharing: The Children's Trust (Tadworth) 2021

United Kingdom

Children
Young people
Disability

On-site skill-sharing: Hospice Ethiopia, FENAID and Gefersa Mental Health Rehabilitation Centre (Addis Ababa) 2018

Ethiopia

Disability
Adults
Mental health
Elderly

Distance learning programme: OPT 2016

Occupied Palestinian Territories

Children
Disability
Mental health
Young people