Interactive Music-Making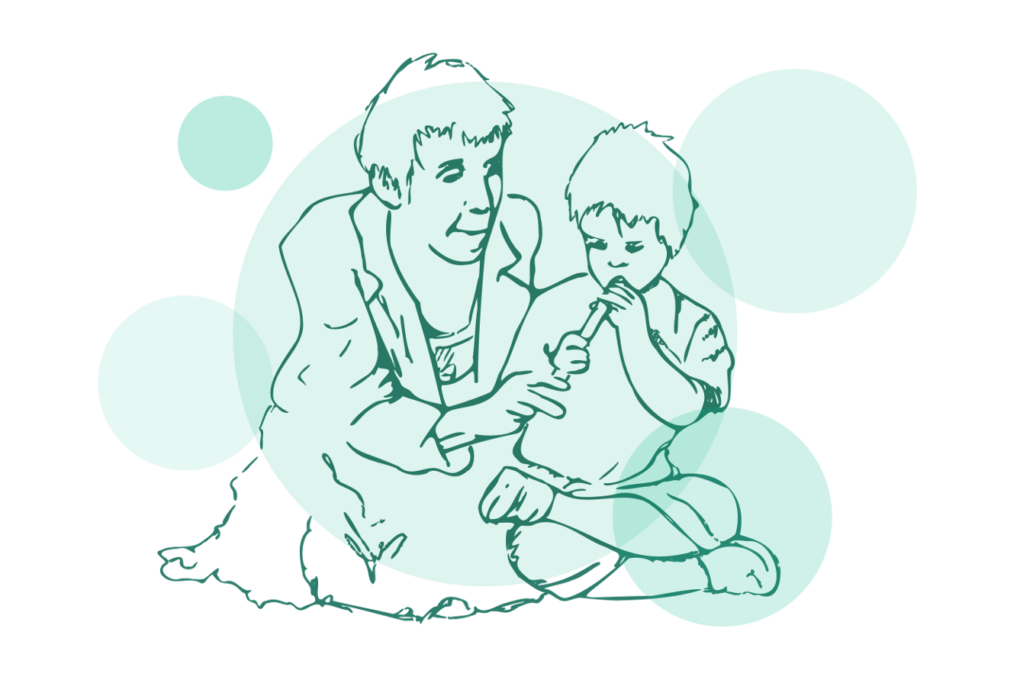 Interactive Music-Making (IMM) is our structured training programme for early years practitioners. It teaches a child-centred approach to music-making, which promotes positive relationships and fosters each child's individual potential. IMM uses techniques drawn from music therapy within an approach designed to make music integral part of children's early development opportunities. It does this by supporting skills associated with social communication, including attention and listening, non-verbal and verbal communication, turn-taking and sharing.
Interactive Music-Making is what early years is all about. What better inclusive environment can you think of?


Dimitrios Kontozisis
Deputy Head-Specialist Leader in Education, Clyde Nursery School and Children's Centre
IMM is a joint initiative between us and Oxleas NHS Foundation Trust Music Therapy Service. It is primarily aimed at those working with infants under the age of 5 years, including early years' practitioners across all community sectors, as well as parents and carers, and musicians and music students who wish to apply their skills within a developmental framework. However, no musical background or particular musical skills are required to access the training.
Training comprises 12-weekly teaching sessions, with an emphasis on practical learning which can be applied directly in the workplace as the course unfolds, followed by a practical assignment (running interactive music-making sessions for a small group of children in the course participant's early years setting). To read more, download our information leaflet 'What is Interactive Music-Making?' in the sidebar, and resources section below.
Our IMM Film, below, showcases the work of some of our Interactive Music-Makers. Watch it to get a sense of the impact targeted musical interventions can have for vulnerable young children, and how IMM could make a difference at your setting.
The IMM Awards
Although our course fees are highly competitive, we are aware that early years settings are facing unprecedented challenges to funding. In response to feedback from our network, we developed the IMM Award Scheme, covering the cost of the course, instruments and contribution to cover/travel, in 2017. If you're interested in finding out more about the IMM Awards, download our Award Scheme Leaflet in the Resource section, at the end of this page. Please note, settings can apply for up to one Award each, regardless of how many practitioners apply from one setting.
How to Apply
The IMM Course runs annually from September to May. Applications for the 2022-23 IMM Course are currently open until Thursday 1st September 2022.
You can download our Student Application Form here. If you would like to apply for our IMM Award, you will also need to complete and submit the IMM Award Application Form here. The Award Application Form must be completed by a setting manager and submitted alongside the Student Application form. If you do not need the benefits of a full Award, or you are not eligible to apply for an Award, but the course fees are still a barrier to your participation in the course, please use the Student Application Form where there is a section to request a smaller course subsidy.
For application advice and further information, please contact elsahariades@musicastherapy.org.
For Managers
We appreciate that managers of services for Under 5s need to know that a new approach will add to their staff's skills in a way that is truly meaningful for the children in their care. Use the Resources section below to read about how IMM links to OFSTED Principles, and here for the relevance of IMM to Sustained Shared Thinking and Emotional Wellbeing.
For Interactive Music-Makers: Support and Resources
We know that the IMM Course leaves you inspired and excited to run music sessions, but sometimes you need help to keep them going. Our Motivation Programme provides trained Interactive Music-Makers with a support framework to keep your sessions going – for as long as you need it. Read the Motivation Programme for Interactive Music-Makers resource at the bottom of this page to find out more. Access all of our early years resources, from activity books and ideas, evidence bases, in the Resource section below. Or email us to find out when our next CPD Event is taking place (these are offered termly).
Contact Us
If you are interested to learn more please do send us an email. Sign up to our mailing list below for reminders and information about the course.