Celebrating ten years of Interactive Music-Making: endorsements over the years
United Kingdom
Children
Disability
Projects
IMM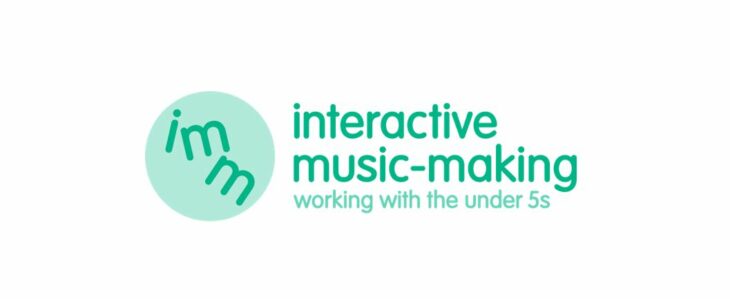 The dialogue I've had with a little boy in my group who is selective mute, on the drum has been completely mindblowing. After his first sessions his key worker said to me 'He's so much more confident.'

Interactive Music-Maker (2016)
The Interactive Music-Making Training Course first ran back in 2010, and has taken place annually ever since (bar one year!). IMM has grown in size, impact, and network, and we are incredibly proud of the 54 Interactive Music-Makers who have trained, and who are working to enhance early years care with their skills. Since 2017, over 10,000 children have had the opportunity to access music due to the Award Scheme alone.
Over the years this has been recognised by many other people and organisations. So, we thought it would be fitting on our tenth anniversary to look back at a couple of these, to reflect on how far the course has come since our very first outcomes assessment.
Interactive Music-Making is what early years is all about. What better inclusive environment can you think of?

Dimitrios Kontozisis, Deputy Head-Specialist Leader in Education, Clyde Nursery School and Children's Centre (2018)
Interactive Music-Making allows all children to communicate and share their ideas with others.

Stephen Harris, Head Teacher at James Wolfe School (2019)
A highlight this year was the Nursery World Awards 2020, which recognised IMM and its network of practitioners as a 'Highly commended' Finalist in its 'Inclusive Practice Category.' This just about sums up what IMM was created to do: the 'promotion of equality of opportunity and the best outcomes for all children, regardless of ethnic origin, special needs, background or disadvantage.' In fact, Nursery World has been a supporter of the course across the years – in 2013 featuring it in 'My Best Course', and this month featuring an interview with Alexia and others on the power of music in the early years.
From our finalist position in the Markel Third Sector Care Awards for our UK programme (of which IMM has been the longest running initiative), to being shortlisted two years running in the Advancing Healthcare Awards, both for 'Achieving Excellence in Training and Development' (2012) and 'Supporting the Future Workforce' (2013), external award recognition has been really important in affirming the interactive music-making approach. Awards provided a boost at a time when IMM was still quite young, and we are proud it has continued to be recognised as it has grown, giving the Interactive Music-Makers due recognition for their achievements and skills.

Our Oxleas Partners, too, have always championed the course's impact:
Oxleas NHS Foundation Trust is so proud of their collaboration with Music as Therapy International. This partnership has spanned more than 10 years, where Oxleas contributed 10k to the inception and delivery of the first IMM training. This has gone from strength to strength, not least with the endorsement of the Nursery World Awards as Highly Commended in the 2020 awards.

Victoria Soper, Service Manager Specialist Children's Services, Oxleas NHS Trust (2021)
For those children for whom enhanced services in their nurseries are not sufficient, the Interactive Music-Making course enables quick and informed onward referrals. I really do see this model as best practice for early intervention.

Lisa Thompson, Head of Therapy and Integration, Children & Young People's Services, Oxleas NHS Foundation Trust (2012)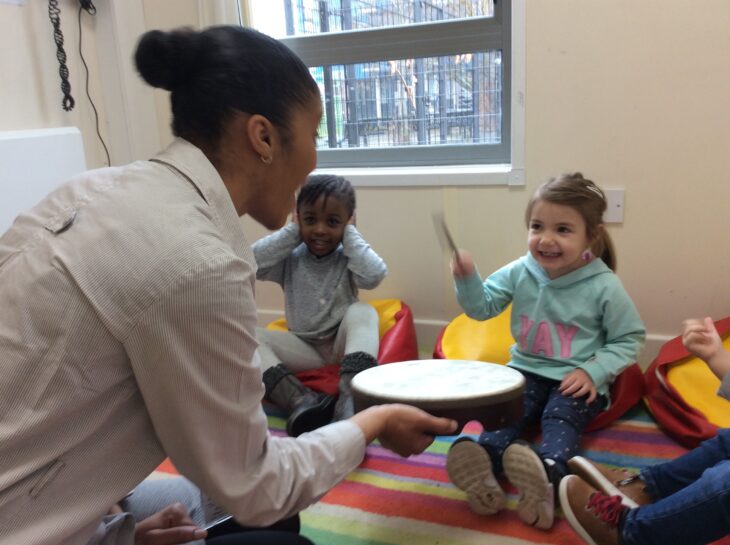 However, it is the stories from managers and practitioners that have been so important in understanding and sharing the real impact IMM that has – long after the Interactive Music-Maker has finished their training. We loved hearing from Kheeima Stewart, and her manager Lis, on how she has been able to use IMM at Quaggy – helping over 250 children and their families since she graduated in 2018:
We prioritise both helping [children] to develop and build their confidence, as well as building up their language development …Some families we work with are isolated from their wider families, friends or social networks and this has an impact on the whole family's mental and emotional needs. So it's really key for us to help them build strong relationships with their children and to understand the part that musical activities can play in this.

Kheeima Stewart, Early Years Community Coordinator at Quaggy Development Trust and Interactive Music-Maker since 2018
We strive across all our Children's Centres to ensure music is an integral part of the provision we deliver to all our families, and having Kheeima as one of our Interactive Music-Making practitioners has certainly enabled us to deliver outstanding sessions for our families. I very much look forward to seeing where we go next with Interactive Music-Making and the journey Kheeima is on.

Lis Day, Children's Centre Lead at Quaggy Development Trust
Likewise, Carolyn Adams gave the perspective of a new Interactive Music-Maker with her story, having graduated in 2020 straight into a pandemic, while Margaret Corcoran reflected on her use of IMM since training back in 2013. And Cathy Byrne's IMM Story as a SENCO and Deputy Head was invaluable in showing other managers just how important this kind of intervention can be:
The inclusive nature of the [IMM] approach enables children to participate irrespective of their starting points. Once given the opportunity to be part of a small focused group, children develop confidence and eagerness to participate in learning very quickly. Moreover, the positive regard which they experience in the group has a profound impact on their wellbeing and by extension their learning… [The enrolled practitioner] has gained a range of new skills which are beginning to be embedded in her wider practice…. I think this would be an extremely worthwhile investment.

Catherine Byrne, Deputy Head, Early Years Foundation Stage (EYFS) Coordinator and Special Educational Needs Coordinater (SENCO) of Ethelred Nursery and Children's Centre, Kennington.
So, a big thank you to everyone who had endorsed IMM over the years. It has been hugely helpful in showing others the potential this training has to enhance the care of vulnerable under fives. We hope this upward trajectory continues – and needless to say, if you'd like to share your IMM story, we'd love to hear it!
Related projects
Introductory training
2021

Structured training: Interactive Music-Making (London) 2021

United Kingdom

Introductory training
2019

Structured training: Interactive Music-Making (London) 2019

United Kingdom

Introductory training
2010

Structured training: Interactive Music-Making (London) 2010

United Kingdom