Our final IMM CPD Event of 2021
United Kingdom
Children
Disability
Mental health
IMM
Projects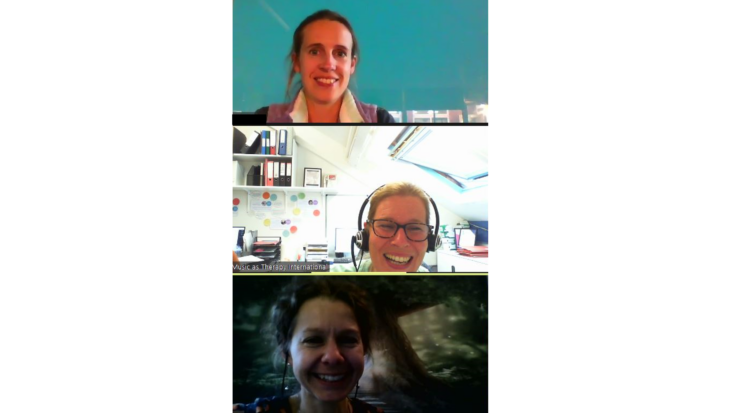 Last week, Alexia facilitated our final Interactive Music-Making CPD Event of 2021, once more on Zoom. How time flies!
We were pleased to connect with two Interactive Music-Makers from the 2016 and 2019 Courses, and to hear how they are using IMM at the moment.
The group discussed, among other things, how music teachers can integrate their Interactive Music-Making skills into a regular music lesson, and how to promote empathy between group members using specific activities. They also thought about how to build vocal confidence, particularly for reluctant speakers, or to make vocal activities accessible, as one Interactive Music-Maker present has a couple of children with no language or limited language in the group. If any of these themes are relevant to your IMM practice, get in touch, and we can let you know what ideas the group came up with in response. There was some lovely feedback and we hope to see many more Interactive Music-Makers at future CPD Events.
Although I do not practice myself [at the moment] I wanted to find out about other practitioners' experience, and listen to session leader's responses which I value much… Participation in IMM CPD Events supports me in maintaining my skills and readiness to practice. I highly value the professional way in which these sessions are delivered. I believe that IMM practitioners who are dispersed amongst various settings benefit greatly from support offered through regular events.

Ewa
Alexia was as amazingly helpful as always. It was reassuring to have what I am doing supported and confirmed by her. Alexia then virtually planned my next half term of objectives, work and activities with the children who I described during the session. Very helpful! It would have been good to have more current practitioners present to share experiences with.

Carolyn
Our next IMM CPD Event will be in 2022, so keep an eye on the Facebook page, or on our new Interactive Music-Making page on our website for dates. If you have trained with us you can also access our Partner Bulletin mailing which advertises CPD Events, among other resources and opportunities, every 2-3 months. Get in touch to sign up!
Related projects
Motivation programme 2021

United Kingdom

Introductory training
2021

Structured training: Interactive Music-Making (London) 2021

United Kingdom

Introductory training
2019

Structured training: Interactive Music-Making (London) 2019

United Kingdom