Gill's Story
United Kingdom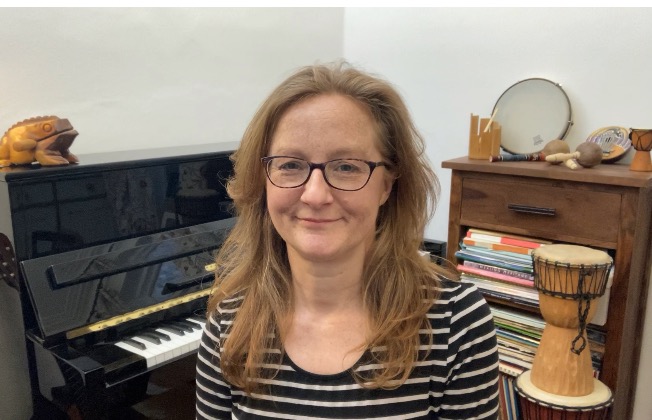 Gillian O'Dempsey has been a tutor on the Interactive Music-Making structured Training Course for early years practitioners since 2018. Gill is a music therapist at NHS Oxleas, with wide-ranging experience in music therapy with children and young people from working in mainstream primary schools, nurseries and children's centres. Alongside this, Gill is involved in teaching, training and research while studying for a Professional Doctorate in Education exploring music therapy practice in mainstream primary schools.
Since Gill first began teaching the IMM students, she has recognised the importance of showing respect for the expertise and experience practitioners already bring to the training. Rather than imposing a whole new structure, IMM begins by looking at students' current practice and encourages them to make connections with what they are learning, noticing where things might be done in a different way.
For Gill, this is one of the course's key strengths, meaning people who have never used music and those who are already music practitioners can work and learn together, and indeed recognising that they have things to learn from each other.
I feel very lucky to have had opportunity to work alongside the IMM students and have learned a huge amount from each of them. It is exciting to see how each student takes the learning from the course and develops it for their own settings.
In 2020, Gill's second year of teaching was unexpectedly upturned by Covid-19, which interrupted the group's Practical Assignments in mid-March. Reflecting on the students experience of this, Gill described feeling inspired by their commitment to their IMM training in spite of the range of challenges this posed for their learning. Despite the sudden change of circumstances, the online presentations the students gave were impressive. Hearing the students bringing their own perspectives on theorists explored during the course refreshed Gill's own engagement with the theories underpinning her music therapy work.
IMM training means practitioners grow confidence to let go of structure and use existing material more flexibly… Through being given space to respond and close attention to their responses, children in IMM sessions have an experience of influencing what is happening. This can build their own confidence and encourage further interaction.
Now, as Gill prepares to teach her third cohort of IMM students, she is reflecting on what the training brings to the Interactive Music-Makers she works with, and the children who take part. She sees the excitement students feel when they notice children responding differently; their newfound flexibility with activities; a growing understanding of why things practitioners already do, perhaps instinctively, are important and why they matter; students starting to recognise behaviour as communication; the teaching group developing a sense of community during and after the training.
The impact of the IMM approach reaches other parts of the day – I remember one student sharing her excitement and her colleagues' amazement at the interactions she had been able to have with a child in the playground using some of the IMM techniques.
In her wider role at Oxleas, Gill has noticed that having a practitioner doing the IMM training often increases the importance and visibility of music-making in a setting. In settings where there is an Interactive Music-Maker on the staff Gill has even found that her time as a therapist is used more efficiently. For instance, when there are low level or emerging questions and concerns about a child's development, including them in a group run by an Interactive Music-Maker can give a much richer picture of their strengths and needs. For Gill, the way in which an Interactive Music-Maker's training has a ripple effect in the setting has been one of the most welcome, unexpected benefits. Not only do music sessions have immediate impact for the children, but also for the rest of the staff, whose enthusiasm for music and desire to get involved is so often encouraged by their colleague's practice.
Related projects
Introductory training
2021

Structured training: Interactive Music-Making (London) 2021

United Kingdom

Introductory training
2019

Structured training: Interactive Music-Making (London) 2019

United Kingdom

Introductory training
2018

Structured training: Interactive Music-Making (London) 2018

United Kingdom