Silbia's Story
United Kingdom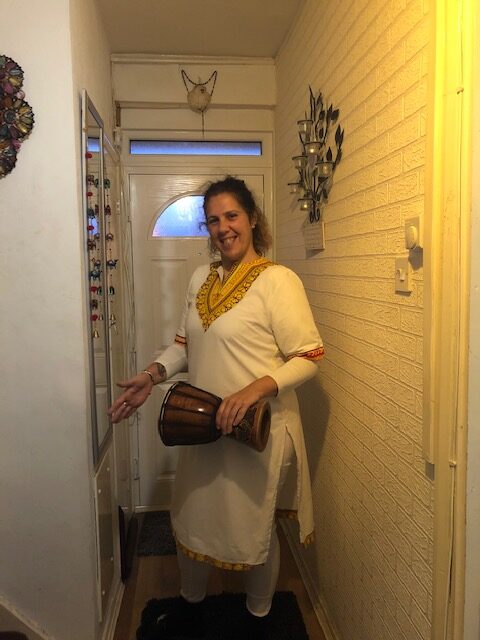 Silbia first came into contact with Music as Therapy International when she enrolled on our Interactive Music-Making course in 2019. Then working at a Children's Centre in South London, her participation was made possible with the support of one of our IMM Awards. When her manager nominated her for the award, she celebrated Silbia's infectious energy, saying "…the children radiate towards her and respond eagerly to her enthusiasm." At the time, Silbia reflected,
[The course] has changed my approach to nurturing children, help them with their development and spotting signs of needs. . I always have used music with the children, but this course not only has given me confidence but has enlightened me to realise the power of music to help children. Thank you for the support, the love and the music. I am so proud I am an interactive music-maker.
Following training, Silbia signed up to our Motivation Programme and then, in early 2022 she got back in touch, having recently changed roles and her place of work. Due to the challenges and complications of Covid-19 she had not had the opportunity to run regular music sessions for the past two years. Yet Silbia remained committed to using music with young children, so was looking for some encouragement and support to get started again. And despite the interruption to her practice, Silbia's inimitable enthusiasm hadn't dwindled. As she said herself:
Do not fear Silbia is here💃💃✨✨✨!
Silbia now works in Kent where she is part of a team offering both universal and targeted support to young children and their families. She also works with partners and professionals to ensure the correct interventions were in place at the right time to achieve improved outcomes. A core aim of her role is to prevent escalation to specialist or statutory services – one of the reasons Interactive Music-Making was created.
Silbia asked us for some help explaining to her new manager what Interactive Music-Making might mean for the setting. Armed with the 'What is Interactive Music-Making?' leaflet and the link to the Interactive Music-Making page, Silbia was soon able to spark the interest and support of her manager and was rewarded by being given responsibility to lead music groups. 
Silbia's enthusiasm and passion with using music to engage with children is evident in everything she does. I have seen Silbia and her interaction with children. It's amazing! I have never seen children so captivated before! Silbia's skills, commitment and her personality is a great asset to our team."

Nursery Manager
Within a couple of weeks, Silbia was back in touch to ask one of our music therapists to look over her session plans and check she was on the right track.  Her ideas were great and carefully explained, drawing on our resources for working with young children. Her session plans included a well-balanced variety of new and familiar songs, which she intended to tailor to the responses of the children in her sessions.
Silbia's Story perfectly illustrates the ways we see our partners reach out to us at different points in their careers, often many years after they first participate in training with us. It also highlights the importance of ongoing, accessible support for our Partners in order for them to sustain their music practice. We are looking forward to hearing how Silbia's work develops in the years to come.
Related projects
Motivation Programme 2022

United Kingdom

Introductory training
2019

Structured training: Interactive Music-Making (London) 2019

United Kingdom