Blended Learning Programme (Occupied Palestinian Territories)
Occupied Palestinian Territories
Children
Disability
Mental health
Projects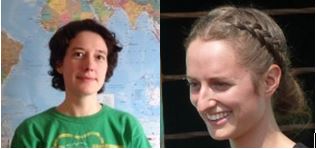 Today sees the start of our Blended Learning Programme in the Occupied Palestinian Territories.
We are delighted to be working in partnership with Musicians without Borders to offer this introductory training in how music can be used with young children with disabilities, to 6 social workers and special needs teachers from Sounds of Palestine and the Ghirass Centre.
The first in a series of online tutorials was sent out today and students will be completing monthly written assignments, which will be moderated by Magda Pata (Music as Therapy International) and Fabienne van Eck (Musicians without Borders) – pictured below.
Alexia Quin and Liz Coombes will travel to Palestine in September to work with Fabienne to deliver the Intensive Study Training and meet the students.
Related projects
Introductory training
2016

Distance learning programme: OPT 2016

Occupied Palestinian Territories

Children
Disability
Mental health
Young people