Celebrating Locally-Led Training in the Occupied Palestinian Territories
Occupied Palestinian Territories
Children
Mental health
Projects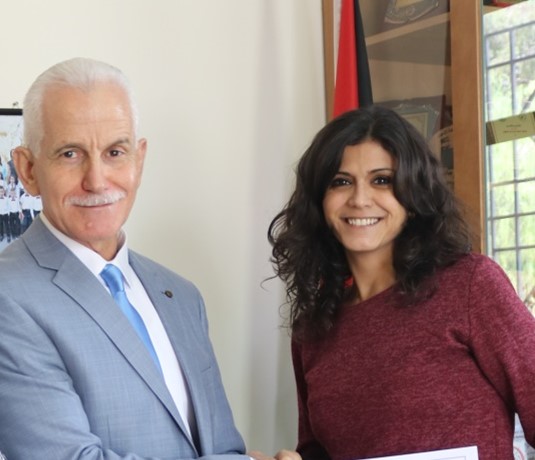 Our Local Partners since 2012, the Evangelical Lutheran Schools in the towns of Beit Sahour, Bethlehem and Ramallah in the Occupied Palestinian Territories have long championed the importance of music for their students. Dr Charlie Haddad (ELCJHL Director of Education) is now enthusiastic to see teachers of the Mahaba Nursery and Preschool (MNAP) develop their use of music. Recognising the expertise he already has within his team, Dr. Charlie has tasked Samar Andoni – one of the schools' social workers and someone who has been using music in her school activities since 2012 – with developing and delivering their training.
Dr. Charlie explains:
Introducing Music Therapy into our schools' curriculum since 2012 has been one of the very important developmental steps that we had taken. This was made possible with the full support and encouragement of Music as Therapy International and the great team there. The feedback that we continue to receive from parents and teachers on how the music programme positively influences the lives of our schools' children has been and continues to be one of the greatest rewards that we could hope for. This is a very significant and essential programme for our students under the prevailing political and socio-economic conditions, where violence takes its toll under the occupation and has a very negative impact on children and adults alike. Music Therapy is one of the most effective tools to help deal with the trauma to which children are subjected."
It is fantastic to see school leaders recognising the value of music for their students and we are grateful to Dr. Charlie for not just keeping music available, but extending the schools' music programmes. We believe strongly in strengthening local capacity wherever possible and it has been a privilege to work with Samar as she has designed her training.
Our thanks to Dr. Charlie Haddad and Samar Andoni for their commitment to embedding music into the education and support of the students at the Evangelical Lutheran Schools and to music therapist Hazel Child for her guidance. Dr. Charlie added his thanks too, "…to Liz Coombes and Alexia Quin for their persistence and continued support and encouragement and to the ELCJHL schools' Leaders."
Related projects
Introductory training
2019

On-site skill-sharing: ELCJHLS (Beit Sahour, Bethlehem and Ramallah) 2019

Occupied Palestinian Territories

Follow-up visit: ELCJHLS (Beit Sahour) 2013

Occupied Palestinian Territories

Mental health
Disability
Children
Young people

Introductory training
2012

On-site skill-sharing: ELCJHLS (Beit Sahour) 2012

Occupied Palestinian Territories

Children
Disability
Mental health
Young people