Cupsmith show their support with every packet sold!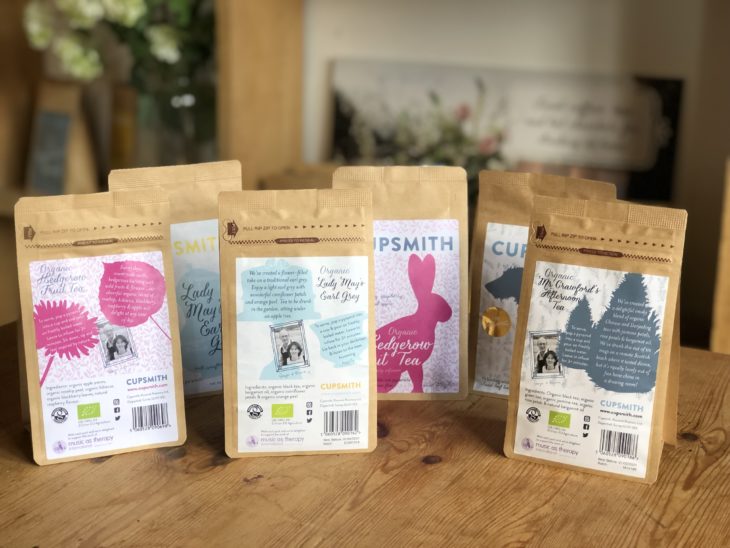 We are thrilled to announce that Cupsmith – a producer of artisan teas, coffees and hot chocolates – will be supporting Music as Therapy International for the next 12 months.
Cupsmith, which is headed up by husband and wife George and Emma Crawford, will be supporting the work of Music as Therapy Internationalon an ongoing basis, with a donation made to the charity for every packet sold.
The family business, which was set up in 2015, operates out of their roastery hidden away in the countryside of Surrey, near Farnham. The new charity partnership will also see every packet featuring our logo, with the hope it will help introduce and promote our work to new audiences.
The new sponsorship is thanks to Alexia's ongoing friendship with Emma that dates back to their childhoods. You can read a Q&A between Alexia and Emma on the Cupsmith website too.
Speaking about their support of the charity, Emma said: "I've been so proud to watch Music as Therapy International grow from humble beginnings over 20 years ago to an award-winning team of inspirational, dedicated people helping to improve lives on a global scale."
"We're delighted to support the amazing work of the charity, both here in the UK and around the world."
With this partnership, it's lovely to think of someone sitting down for a cup of Cupsmith tea, spotting our name on the packet, and letting their curiosity lead them to find out more about the charity.
We are touched to have the support of someone who really has been alongside the charity every step of the way and would like to thank Emma and George for their incredible gesture.
You can buy Cupsmith's range of teas, coffees and hot chocolates in Waitrose & Partners stores around the country, in Selfridges and online from Ocado, as well as a host of independent retailers throughout the UK.
For more information please visit www.cupsmith.com.