Halfway through the year: A message to our Partners
United Kingdom
Adults
Children
Dementia
Disability
Elderly
Young people
Projects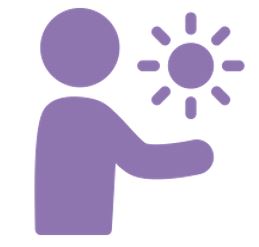 It's now midway through 2020 – and it's fair to say this has been a year none of us could have expected. COVID has thrown care and early years professionals into the spotlight: through the most tragic of circumstances, care practitioners are now being nationally recognised for your crucial roles ensuring the most vulnerable members of our society are kept safe.
I hope the summer heat hasn't affected you too much, and that you've been able to enjoy a break over the last few months. As ever, we're here to support you to use music with your service users whenever you feel you are able to – whether its instruments, ideas, a chat with a music therapist – just get in touch. For now, here are a couple of updated resources and reminders about what is on offer from us.
Updated Evidence Bases for Music with your Client Groups
These handy leaflets summarise the scientific evidence for the benefits of using music therapy with your client groups. Not only do they do this, but they allign the outcomes from your training projects, with training outcomes required by the EYFS or Transforming Care Guidelines, depending on who you work with. They also include your testimonies! These are perfect for sharing with colleagues, new managers, and the families of your service users, to demonstrate what exactly your music-making practice can achieve.
1) The Role of Music for the Under Fives (2020)
2) The Role of Music for Adults with Learning Disabilities (2020)
3) The Role of Music for People Living with Dementia (2020)
These were updated using our 2nd Edition Research Summary, which goes into much more detail. You can read an extract of the Research Summary here – If you are interested in accessing the whole document, please let us know.
REMEMBER: Musical instrument infection control. We remind you to always thoroughly clean your instruments after use to prevent cross-contamination. Read our guidance on how to use musical instruments safely during COVID-19 here.
Our Musical Instrument Fund is still open for applications (find the form here). Several of you told us that having too few instruments was preventing music sessions, as passing round instruments risks cross-contamination. It might also be the case that you don't have the right kind of instruments, and would like some that can be held onto for a whole session by each individual participant.
Peer Experience Meetings: Some of our Early Years Practitioners got together with Alexia Quin via Zoom last month and we hope to meet in person next term (at James Wolfe School, Tuesday 16 November, 4-6pm). If you would like to share experiences with other practitioners using music with young children, you can sign up here! If you'd like to share experiences with people using music with a different client groups, let us know.
Missed our last bulletin? Find it on our Resources page!
Related projects
Motivation programme 2020

United Kingdom