Keeping going! New ALD resources and musical instrument funding for our Partners
United Kingdom
Adults
Children
Dementia
Disability
Elderly
Young people
Projects
IMM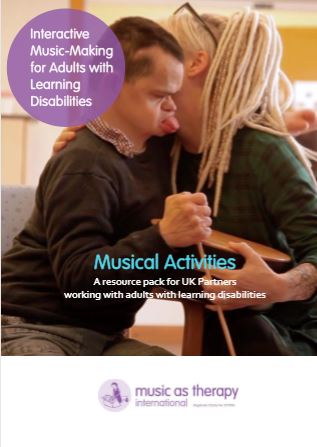 The past ten weeks have been strange and often incredibly challenging. We are constantly impressed with your dedication to the vulnerable people you care for, despite these circumstances.
Though music is not an essential service, its ability to provide emotional support and connection, and make us feel less isolated or anxious, means it has the potential to be a powerful tool at this time. However, you know how it will be relevent to your unique setting and circumstances much better than we do. So, we will continue to ask you: how can we support you right now? Please drop us an email if you have any requests: perhaps you'd like activities for a particularly challenging aspect of care, or you'd like to chat with a music therapist? We'd love to hear your ideas, and we will do our best to provide what you need.
Meanwhile, you can find our latest resource: Musical Activities for Adults with Learning Difficulties, along with some COVID-19 Guidance, below. The Activity Book is also featured on our UK Resource Page. You may remember we have also created an Activity Book for our partners who work with people living with dementia (also available below).
Our Musical Instrument Fund is still open for applications (find the form here). Several of you told us that having too few instruments was preventing music sessions, as passing round instruments risks cross-contamination. It might also be the case that you don't have the right kind of instruments, and would like some that can be held onto for a whole session by each individual participant.
Reminder: if you're an Early Years practitioner, you can sign up to the next IMM CPD Event here! It will be taking place on Zoom (Tuesday 16th June, 4-6pm), and will be facilitated by Alexia Quin. All attendees will be sent a Zoom link the day before. If you work with a different client group, but are interested in CPD, let us know.
REMEMBER: Musical instrument infection control. We remind you to always thoroughly clean your instruments after use to prevent cross-contamination. Read our guidance on how to use musical instruments safely during COVID-19 here.
New Musical Activity Resource Packs
Our latest resource is Musical Activities: a resource pack for Partners working with adults with learning disabilities. It is designed for practitioners who have taken part in music training, but you more than are welcome to share it with colleagues (though you may want to give them some guidance on the interactive music-making approach!). We have also put together some guidance to support you to keep doing music with the adults in your care, while working alongside COVID-19. If you have any more ideas or questions about using music in these new circumstances, don't hestiate to get in touch. All of our resource packs are available on the UK Resource Page, including last month's Musical Activities for UK Partners working with people living with dementia, also below. Tips for doing music with people living with dementia during COVID-19 can be found on our last blog.
Related projects
Motivation programme 2020

United Kingdom