Magical moments, mountains and just a touch of mayhem – Project Georgia 2014, week 3.5
Georgia
Children
Disability
Projects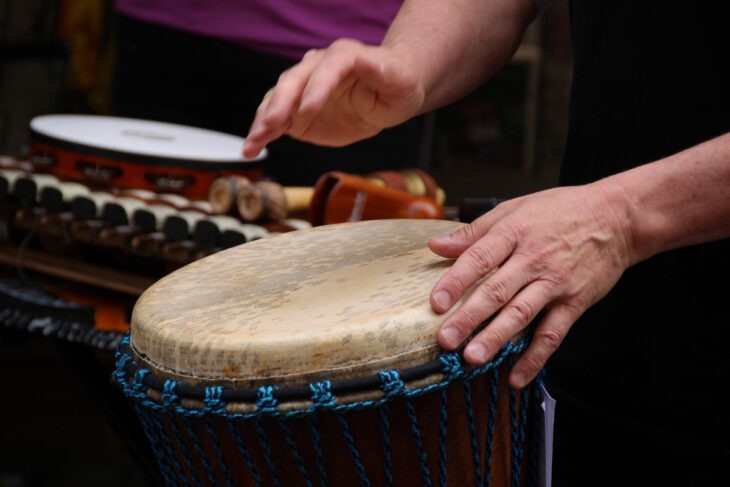 Last weekend Jenny and I took a trip to Kazbegi situated in the
mountains in the north-east of Georgia. After waking up to the most
beautiful sunrise over Mount Kazbek for two mornings we felt
refreshed and ready to tackle week four of the project. Escaping
Tbilisi for the weekend also allowed us the time and space to
reflect on the project so far. It felt quite poignant for me that I
spent the day which marked the midpoint of my time in Georgia
climbing up to the Gergeti Trinity Church situated at an elevation
of 2170 metres.
The groups at the Special School 198 and the Parent's Bridge
Centre are now well and truly in full swing. Last week Jenny led
the sessions to demonstrate some ways of working therapeutically
with music, with the staff observing and supporting the students.
It was great to see this different approach bringing out new
reactions both in the students and the staff and encouraging some
really wonderful interactions between different combinations of
individuals in the group. The photos below from one of the groups
at the school hopefully captures at least some of the spirit of the
sessions.
Things are also going really positively at the Parent's Bridge
Centre although the format of the sessions still need a bit of
tweaking. It has been tricky setting up the work here as it's
been hard to unravel and understand exactly what goes on already
and to decide on the best way of working in this setting. The fact
that lots of people seem to attend on some days but not others
needs a more open and flexible approach than at the school, but I
think we are finally getting there and there have been some magical
moments mixed in with the slightly chaotic ones!
Jenny led the second staff training session at the school on
Friday. There are six members of staff regularly attending these
training sessions, half of whom work both at the school and at the
Bridge Centre. It was great to hear the different staff members'
thoughts about the week and the presence of our very able
translator, Eliso, allowed us to talk to the staff in much more
depth about the sessions. We have been so impressed with how
quickly and naturally the staff are adopting the new approach.
On Monday morning we went to school expecting that Jenny would
still be leading the beginning and ending of the session and the
staff just one activity each, but one of the teachers came in with
a plan for the whole session and proceeded to lead the group
confidently and already in her own style. We were so delighted!
In other news, we continue to be well-fed with khatchapuri and
creamy cakes, well and truly baffled by the language, and
continually welcomed by the generous Georgians we meet on our daily
adventures around this intriguing city. In summary, all is
well.
We look forward to seeing what the rest of this week
brings…
Isabel and Jenny
Related projects
Introductory training
2014

On-site skill-sharing: Public School No.198 and Parent's Bridge Centre (Tbilisi) 2014

Georgia

Adults
Children
Disability
Young people