MasT is supporting the Music for Dementia 2020 Campaign: bringing music to everyone living with dementia by 2020
United Kingdom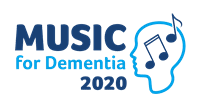 MasT is proud to be a supporting organisation of the Music for Dementia 2020 campaign – an initiative developed in response to the reccomendations made in the Commission for Music and Dementia Report, for which Alexia was a Commissioner.
Launched this January, by The Utley Foundation, the MfD2020 campaign aims to share best practice, unify resources, and build a "collective understanding across society that music as a necessity for people living with dementia."
The campaign ultimately aims to bring music to all those living with dementia by 2020, and recognises the importance of 'music supporting care.' Take a look at their website here, for more information, advice, evidence and resources: http://www.musicfordementia2020.com/
We are heartened to see that the campaign is already recieving great coverage in national news outlets (for example, the article on music as an integral part of 'social prescribing' in Dementia care, by The Guardian). We look forward to working more closely with MfD2020 this year!