News from Bethlehem 5
Occupied Palestinian Territories
Children
Young people
Disability
Mental health
Projects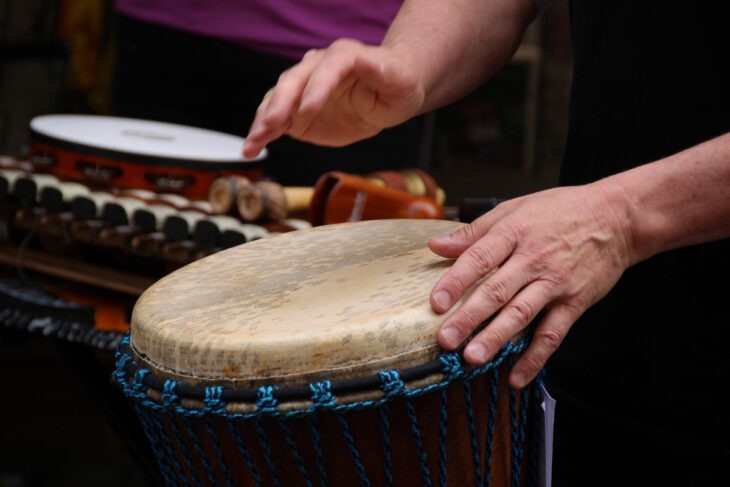 I cannot believe this last week has gone so quickly and we are
almost half way through the project! We have had a great week of
sessions at the village and in the school which Liz will go into
further detail at the end of this blog! Having walked home from
School yesterday via two music shops we have almost come to a
decision over the instruments we are going to buy (and definitely
come to a decision that we will never walk home from school again
at the hottest time of the day as we only just made it!). Many of
the children at the school are fascinated with the chime bars and
really enjoy the activities that use them. These work on their
concentration, listening skills and confidence. We hope by next
week to have purchased a set for the Village also.

Outside the life of music Liz and I have managed to find a haven of
a cafe which hosts all types of Arabic sweets and so fully expect
to double in size by the time we return to the UK! They are a
delightful combination of pastry, nuts and a gallon of syrup and a
must for anyone travelling to the Middle East – we like to
think we are fulfilling our cultural understanding rather than
satisfying our sweet cravings!

We had a super lunch today with Noubar, the music teacher at the
SOS school who is one of our trainees and fantastically eager to
learn more about Music as Therapy. Something I am noticing here is
that the Palestinians are really great people, so friendly and
welcoming and extremely fascinating to spend time with and chat to.
Their sense of humour is very similar to ours which allows for many
moments of laughter and makes light of any problems there could be
caused by language barriers.

After our sessions at the village tomorrow morning we will set off
for Jerusalem for a short break before starting work again on
Sunday. We had a very brief (however, very informative!) tour of
Jerusalem given by Project Leaders Claire and Paul on our first day
here and so are very much looking forward to returning to many of
the places pointed out to us.

More next week! Below is Liz's account of some of the
clinical work we have done in the past few days:
Today we finished our second round of workshops with the trainees
in the SOS School. All the groups and individuals have now had two
sessions and are progressing well. Yesterday, one of the groups had
to be postponed as we had another meeting at the Village. We were
disappointed by this, but there was an up – side! Hamed, the School
social worker, felt confident enough to take the group on his own.
He made notes and fed back to us what he had done with the children and how it had gone. We asked him if he felt able to present this as a Case Study at the weekly staff meeting. Hamed gave us a big "Yes!" to this.

Also present today was Hamed's trainee Social Worker who, with the
agreement of students, took part in the group. She was an excellent
participant – and also made tea for the staff meeting – a very
welcome refreshment I can tell you as our day @ School began @
7:30am. She will be including her Music as Therapy experience in
her training report to Bethlehem University.

The weekly staff meeting went very well indeed. I gave a short
presentation about the principles of "Music as Therapy",
and then revised the activities we had done. Hamed felt able to
demonstrate an activity Claire had shown him last year, and then
gave his Case Study. We also had an improvisation – specially
requested by staff!

Tomorrow we will be continuing our work at the Village with a group
and an individual together with the staff meeting
Related projects
Introductory training
2009

On-site skill-sharing: SOS Children's Village (Bethlehem) 2009

Occupied Palestinian Territories

Mental health
Disability
Children
Young people