Our final Evidence Base: the Role of Music for the Under Fives
United Kingdom
Children
Disability
Projects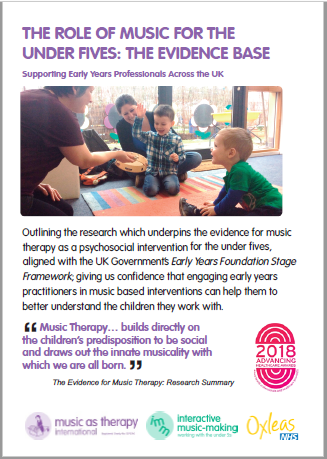 Before we go home for Christmas, we are sharing one final resource for 2019: our latest Evidence Base: the Role of Music for the Under Fives.
"Music therapy… builds directly on the children's predisposition to be social and draws out the innate musicality with which we are all born."
The under fives are our biggest client group, and to support our UK Partners and Interactive Music-Makers, we have created this handy resource. Show it to parents and managers to evidence your music practice – or just to remind yourself of the value of what you're doing when you run music sessions! It summarises the evidence for music therapy with young children, looks at Ofsted outcomes and the relevant Early Learning Goals, as well as sharing outcomes from our work and feedback from managers, practitioners and young children.
We hope it is useful to you and would love to hear your feedback – please do get in touch. If you are a UK Partner working with children under five, remember to access our December newsletter, which has an under fives focus, and sign up to recieve future newsletters by emailing freyagibbs@musicastherapy.org. You'll also recieve a free pair of MasT egg shakers!