Our June Interactive Music-Making CPD Event!
United Kingdom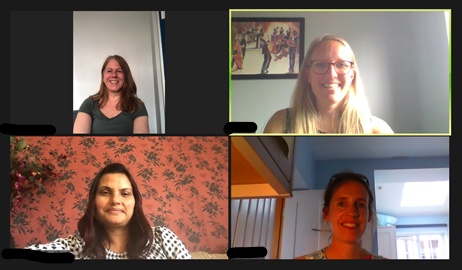 Last week Oxleas music therapist Hannah Smith hosted our Summer IMM CPD Event on Zoom. She met four Interactive Music-Makers – one of whom trained back in 2010.
This [CPD] programme has helped build my confidence to run sessions.'

Bijita Gautam (IMM 2019)
The group had a great discussion: they recognised their achievements in using IMM despite the difficulties posed by Covid – they considered their strengths and thought about new activities to react to scenarios they were encountering. There was also lots of group encouragement for Interactive Music-Makers who were thinking of starting their sessions back up. We are so pleased it was such a productive session and hope more of you will sign up to the next one – remember, there's only one more in 2021!
I had some questions about how I could support children's language development and encouraging a child who has removed himself from the IMM group to return. Hannah (and the other participants) were able to provide the answers I needed and I now have some new tools/strategies to try during my sessions.'

Carolyn Adams (IMM 2019)
The next IMM CPD Event will take place on Friday 15th October, 4-5pm, on Zoom. You can sign up here. Check out our dedicated IMM Website too for mor information on support for Interactive Music-Makers and on how to apply to the 2021 IMM Course, which is now open for applications.