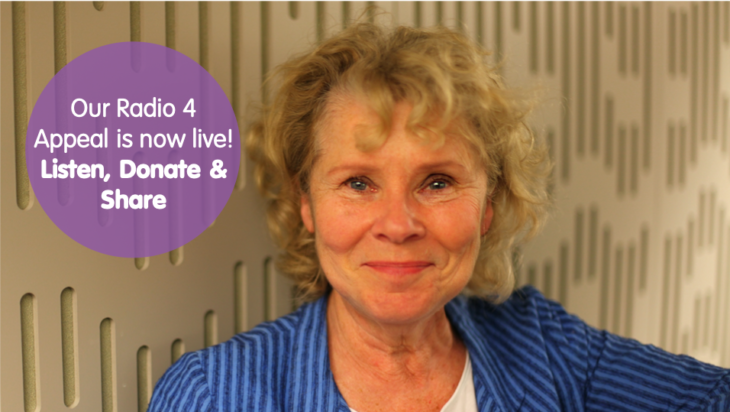 Our BBC Radio 4 charity appeal is now live!
You can now listen to award-winning actor and long-time supporter Imelda Staunton CBE present our appeal on the BBC Radio 4 Appeal website!
The success of this Appeal is dependent on your support so please, please help in whatever way you can.
How you can help
Listen, Donate & Share!
Listen
You can listen to our appeal at any time between 13th and 17th October on the BBC Radio 4 Appeal website, or tune in to any of our broadcasts during the week on BBC Radio 4.
Here are the broadcast times again:
Sunday 13 October at 07:55
Sunday 13 October at 21:25
Thursday 17 October at 15:25
The success of our appeal depends on you, so please give whatever you can. Every donation we receive makes a difference, no matter the size.
You can make a donation via the BBC Radio 4 Appeal website here:
Share
If you have a social media account please share our posts or post your own message in support. To help spread the word please feel free to use the suggested post below:
Please join me in supporting Music as Therapy International's Radio 4 Appeal this week. Listen online and donate whatever you can here: www.bbc.co.uk/programmes/m00099wg#R4Appeal
Please also 'Follow' and 'Like' our Facebook and Twitter accounts and re-tweet and share any of our Radio 4 Appeal posts! You can do the same with the BBC Charity Appeals page as they will post about our Appeal too.
Thank you for your support!