Romania's 5th Annual Music Therapy Conference (Brasov)
Romania
Disability
Children
Young people
Projects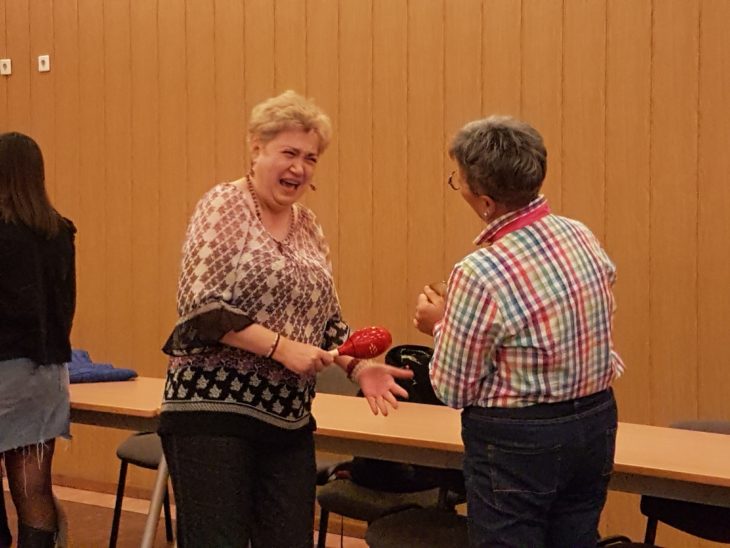 When I offered a presentation or a workshop for the 5th International Conference in Romania, I would have been really pleased to have either accepted. Delighted, even. I'd never visited Eastern Europe, and have heard so much about the good work Music as Therapy International has done there over the past 25 years, and the wonderful relationships forged. I'm always keen to experience something new, and discover a new culture… When it turned out that they had accepted both, it became a tad on the scary side of exciting – presenting in a conference was another thing I'd never done before.
Fast forward a few months and I'm on a plane, clutching a bag with my memory stick, and my back up memory stick, and really looking forward to everything. I was planning to share work about a family I'd worked with earlier in the year, with lots of clips of music. The work had been really exciting, with a genuinely positive outcome, although it didn't work in a straight line to expected outcomes of course – and it always feels helpful to share that, too. The workshop was less straightforward as the conference title was 'the Power of Words and Music' so I felt I needed to bring words into it somewhere. Thankfully I was introduced to our wonderful translator, Larisa, very early on, who helped everything to make sense. Larisa is also currently a student on Music as Therapy International's Distance Learning Programme.
What a country! Sweeping hills, mountains, plains, and everywhere the distinctive building style that illustrates snow is a regular feature here. There are castles that cut the horizon as a startling backdrop, clean, well managed towns and quirky villages, with the courtyard gates that open to reveal family homes and businesses set back from the busy street. Everyone makes an effort to communicate, nearly everyone speaks a little English and an amazing number are fluent. I am overwhelmed by the kindness of people keen to help, not just at the conference but everywhere.
The conference itself is very interesting – a very wide variety of thoughts on what it means to practice 'music therapy', and even a debate on the various terms used to describe it. Delegates had come from India, and treated us to live demonstrations of folk music that is used to get close to and respond to people at different stages of their lives. In contrast to this, there are machines that measure brainwaves to bring much needed 'empirical evidence' to the cause, proudly displayed by members of the university. A brilliant pianist responds in music to pictures as they appear on the screen and other people talk about their work with children in schools in Romania. My own presentation is well received, the technology works (phew!) and interesting questions are asked. The workshop is good fun, and everyone takes part unselfconsciously with humour and good will.
In the evenings we eat traditional food in a local restaurant, and all is very relaxed. On the final morning there is a space that needs filling, so Alexia and I run an impromptu activity that involves nearly everyone attending. We explore improvisation, and how a firm boundary that relaxes over time can help people to participate. We even bring the words in again, with an improvised part song about feelings!
The event ended with photos of everyone and plans for next year's conference, which we are enthusiastically invited to attend. Next year, they wonder, will there be a more varied approach with other Arts therapies and psychotherapists attending? Watch this space…
Hazel Child, Music Therapist
Related projects
Capacity strengthening
2019

Conference participation: Brasov 2019

Romania

Adults
Children
Dementia
Disability
Elderly
Mental health
Young people