The final blog from Invernevis House!
United Kingdom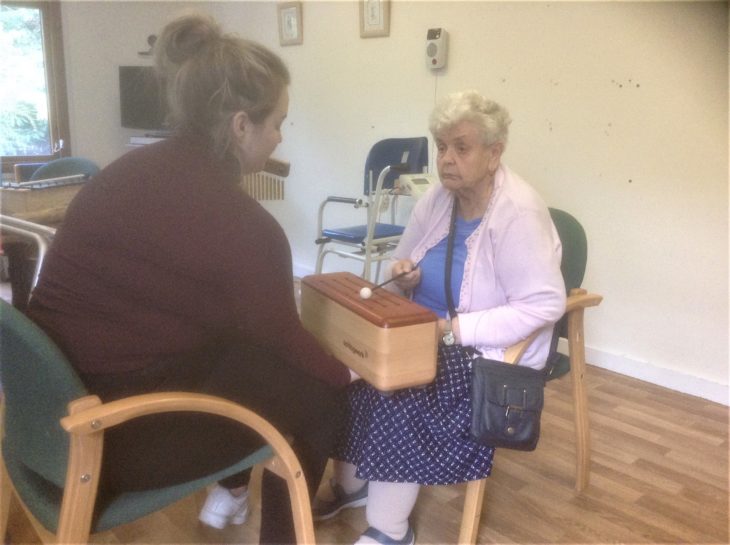 Thank you to Clare Reynolds, the music therapist who has been leading the Invernevis project with great expertise over the last eight weeks! Here she reflects on the final session, delivered yesterday:
Well, after eight weeks, last wednesday was my last day of delivering a Music as Therapy International training session at Invernevis House. It has been great to be involved in and as I observed the staff that I've been working with take over the sessions once more today, I have left feeling very confident that the residents of Invernevis will be able to enjoy some wonderful musical connections in the future.
It's been an incredibly busy time and over the weeks I have worked with six different staff and eighteen residents. I would like to thank all the staff and residents who have been involved in this training but I would especially like to mention Donna, Roslyn, Helen and Mandy (who is the most amazing volunteer) for taking part and allowing me to take them on a new musical journey! Thank you too to Music as Therapy International, who are the most fabulous and supportive charity you could wish to work with.
Today, as I went in for the Certificate Ceremony, we had an almost 'party-like' atmosphere as we celebrated the end of the training project. Unfortunately we were 2 trainees down as Mandy and Donna were unable to be there. We did have Rosalyn however who was awarded a certificate for her participation and successful completion of the training outcomes. Helen, had unfortunately missed part of the training but will most certainly gain her certificate next time I visit for a Follow-Up. Indeed I was so happy to learn that Helen had already run a successful music group today within the daycare setting. Fantastic Helen – keep up the brilliant work. Can't wait to see you in action very soon.
I would like to say a huge thank you to all the fabulous folk I have worked with throughout these 8 weeks for all their support and commitment to the project and thanks go too to Krzysztof who is currently acting manager for all his support along the way.
Well done everyone and keep in making music!
Related projects
Introductory training
2019

On-site skill-sharing: Invernevis House (Fort William) 2019

United Kingdom