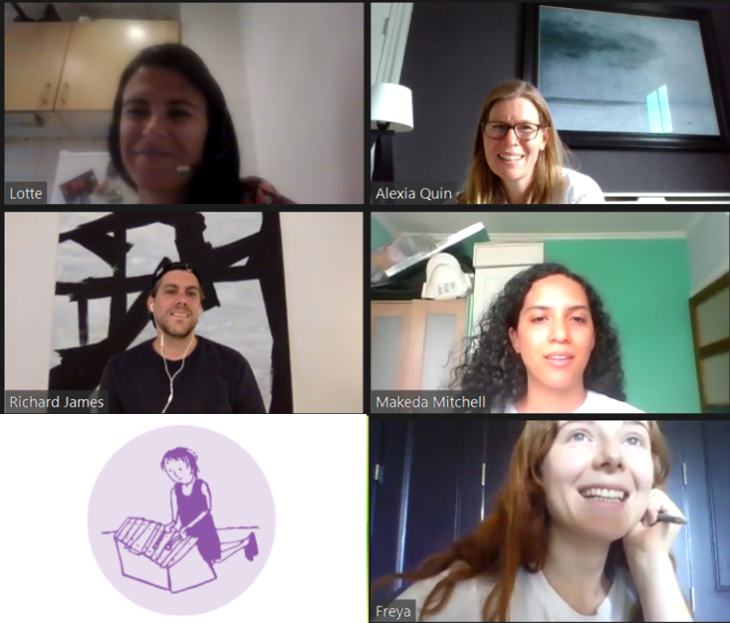 As our previous COVID-19 blog post (Staying calm on shifting sands: Our response to the COVID-19 crisis) described, the early days of the pandemic led us to reflect carefully in terms of what our role was to be in the challenging times ahead. For us like so many others, recent weeks have been a reminder of how fast things can change: Two months ago it was clear to us that – despite our experience of working with extremely vulnerable people – we should step aside and let others provide the immediate response to the international health emergency. It was "not our time". But that hasn't meant we've furloughed our staff or paused our work. Yes, there have been adjustments to our activities. But we've long-held a commitment to being partner led, to actively listen to our partners, and to respond accordingly to their needs. This is what has always helped us design, develop and deliver our activities over the years. So, we've taken the same approach over the past two months.
You may have heard us say this before – it's on our homepage! – but we do not parachute in to perform short-term miracles in the places where we work. Our Introductory Training is just the beginning, after which we provide our partners with resources and professional support to make sustainable change themselves long after our team has left. To quote from our values of Sustainability and Partnership directly:
"Guided by our partners, we continuously refine, improve and adapt the support we offer to ensure sustainability is never a mere buzzword.
We are passionate about understanding the real needs of communities we work in…we are partner-led. We tailor our approach to what is wanted and needed locally."
At this moment in time for many care settings the idea of embarking on a new Introductory Training project may be a distant one, but there has been a great deal we could still do to strengthen the sustainable impact of our projects and – most importantly – to help our partners to keep going.
Putting our values into practice
Much like adapting to home-working, some of this has been a process of learning on-the-fly. But, we've not had to reinvent the wheel. Our Introductory Training Projects might usually make the most visible impact, but right now it seems it's the small things which are making the most meaningful impact. So we've doubled-down on the Sustainability and Partnership efforts we know are crucial for affecting genuine long-term change, being sure to listen and to be guided by our partners. Some scheduled activities could be readily converted to an online format, this included our termly support meetings for early years practitioners. But for others, particularly in light of travel and local access restrictions, we've been exploring new ideas. Such as reaching our partners around the world using video messages, sharing new resources and creating different opportunities.
We anticipated that communicating with us might not be at the top of anyone's priority list and that many people have been, and may still be, in crisis mode. But actually our partners have been quick to respond. They have seized the opportunity to seek guidance on the ways they are using music, how to adapt to use music alongside COVID-19, or to ask for new ideas to sustain them while the burden of care sits squarely on their shoulders. In sharing our challenges with each other, we've benefitted from valuable guidance on living with uncertainty from our Palestinian partners, and been able to support others, such as our Rwandan partners, take on greater leadership and responsibility for making music an integral part of care in their country. Amidst all the hardship, we've been overwhelmed by our partners' unwavering belief in music and their ability to adapt in the face of new challenges.
"It is immense to hear from you once again. We are delighted that you have made a video script… It shows that even if you were far and interrupted by pandemic – Coronavirus, you have been thinking of Rwanda and put more emphasis on Music Therapists."
Making music in the moment
Skilfully provided by care practitioners, music and singing remains one activity children and adults can still take part in. From care homes in lockdown, to schools and nurseries operating very differently, and with health and safety considerations dominant everywhere, group music-making has continued to enable connections to be forged, emotions to be shared, and all the life-enhancing benefits of music to be experienced while keeping safe.
Keeping safe now includes constant consideration of how the virus can spread, so making music without sharing or passing musical instruments is the 'new normal' for many of our partners – for now, at least. A conversation with partner in the UK, led us to compile new COVID Guidance for using music without instruments. The positive reaction to this in led in turn to equal guidance for our Partners working with other client groups, alongside updated activity books for those wanting to use music with adults with learning disabilities and people with dementia (some of which are now being translated for our international partners too)
"I think what you sent will really help… I often break into song when alone with a resident as it still surprises me how many people sing back to me…. Thanks for your help."
Meanwhile other partners told us that new musical instruments were exactly what was needed right now. In the early years, young children still need play and stimulation but, whilst social distancing is less of an expectation, more resources are needed to minimise transmission risks. So, we've extended our Music Instrument Fund in the UK, with supplementary musical instruments supplied to partners at home and overseas.
Through asking a question as simple as: "How can we best support you during this time?" we have been heartened to find ourselves closer to many of our partners than we might be otherwise, with a deeper understanding of their experiences and unique challenges. Their stories, many of which differ greatly from the doom-and-gloom reports so frequently dominating the headlines of late, have demonstrated time and time again how music remains a source of meaning and comfort no matter how challenging the circumstances. And so we look forward: We are continuing with the development introductory training projects for delivery in the UK, Myanmar, Rwanda and India which will be ready as soon as our potential new partners are ready for them. Until then, we follow our partners' lead with a focus on keeping going.