Training of Trainers in Georgia – the conclusion!
Georgia
Children
Disability
Projects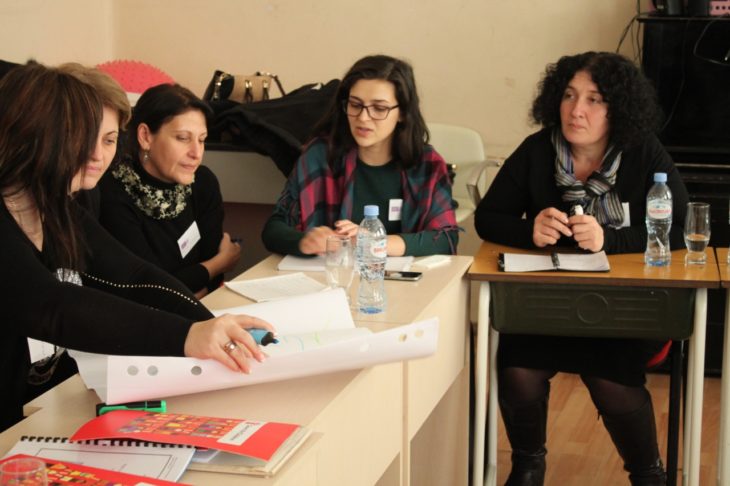 Following Jenny's blog earlier in the week, we just wanted to fill you in on how the 2-day intensive Training of the Trainers went…
We spent Wednesday preparing for the training, after observing sessions in the three different settings (Public School 198, Public School 200 and the Parent's Bridge Day Centre) on Monday and Tuesday. On Thursday and Friday we delivered the training at the Parent's Bridge Day Centre to eleven staff members from the three settings.
Everyone arrived early for the first day of the training and there was a bit of a buzz in the room, perhaps a mixture of excitement and apprehension. We spent the first day recapping the core principles of music therapy, introduced some new theory and began to think about how to music as therapy knowledge and skills with others. We used lots of experiential activities to keep everyone engaged and were extremely well fed and watered which helped to keep energy levels up!
By contrast, the second day had a much more relaxed start and this feeling continued throughout the day… until the arrival of the Georgian TV crew that is! (more on this in the next paragraph). On this day we focussed on the different tools which can be used when training others in music as therapy. We had lots of fun doing role plays and experiential musical activities. We were delighted to see that staff from the different centres were mingling more during the breaks and sharing their experiences with each other more freely on this day.
At the end of the training on Friday afternoon the TV crew arrived (!) and filmed our final group discussion, the certificate presentation and interviewed Jenny. We are looking forward to seeing the footage! Afterwards, we all set off for a traditional Georgian restaurant to enjoy kninkali (Georgian dumplings) and saperavi (a delicious Georgian wine) together.
We are so grateful for the energy and commitment of all of the staff and are really looking forward to seeing where the work in Georgia will develop from here… We left very early on Saturday morning feeling tired but invigorated after a really positive and thoroughly enjoyable week back in Tbilisi.
Thanks to everyone who has supported both us and our Local Partners in Georgia, Jenny & Isabel
Related projects
Capacity strengthening
2016

Training for trainers: Tbilisi 2016

Georgia

Adults
Children
Disability
Young people