Tubakunde Evaluation visit – end of week one
Rwanda
Children
Disability
Projects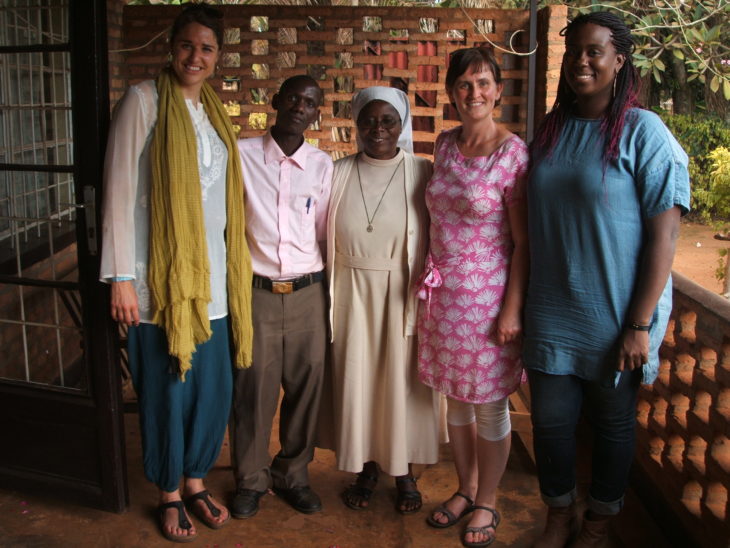 Muraho from Rwanda! Una and I have been here just a week and
we've already travelled more than 300km and have visited five
different day centres for child and young people with learning and
physical disabilities across Rwanda. For both of us, it is out
first visit to the 'land of a thousand hills'. As well as
visiting the centres we've also had the chance to sample some
of the local cuisine, have learnt a handful of key phrases in
Kinyarwandan and have got a feel for the distinctive Rwandan
landscape – the rolling hills, the glistening lakes, the deep red
earth and abundant green banana trees…
Let me just give some context to our visit. In October last
year, six members of the Tubakunde network, a Rwandan organisation
working with care settings for children and adults with
disabilities, travelled to Cyangugu in the south west of the
country to take part in a two-day training programme led by two
local partners from this area. This was a pilot project, an
opportunity for the local partners to share the music as therapy
skills they have developed since taking part in the very first
six-week project in Rwanda in 2010, led by music therapists Nicky
Haire and Caroline Anderson.
In the two centres to take part in the original training project
six years ago, music as therapy programmes are now well-established
and the local partners have developed into highly skilled
therapeutic music practitioners. For the members attending the
two-day training in October, this was potentially their very first
encounter with music as therapy techniques. The hope was that these
members would each return to their different settings equipped with
the basic skills to begin running their own therapeutic music
sessions.
We are half way through the two weeks we are spending in Rwanda
during which will be visiting each of the six centres that
participated in the training last year. We want to see how the
staff members have been getting on since October, indeed whether
they have been able to deliver music as therapy sessions in their
individuals settings, and aim to identify any areas for further
support and training. We will also be evaluating the overall impact
and effectiveness of the two-day training model. Lots to do in only
two weeks!
We've already been lucky enough to travel the full breadth
of the country (Rwanda is only about the size of Wales but still a
lot of travel in only a few days!). We arrived in Kigali, the
capital, on Sunday afternoon and made our first visit to a centre
in Ngoma, the Eastern province of Rwanda, on Monday. On Tuesday we
visited two centres in the Kigali area and on Wednesday morning
continued on to a centre in Muhanga, around 50km west of Kigali.
The main roads in Rwanda are pretty good but as you travel further
out they become increasingly bumpy; when we arrived at the centre
in Komera, situated in the far west of the country, on Wednesday
afternoon, we were asked "Did you enjoy your African
massage?"!
We've really appreciated the really warm welcome we have
received in all of the five centres we've visited so far. In
some, we've even been greeted by a traditional Rwandan song and
drumming, quite a treat! We are impressed that some of the centres
already have music as therapy sessions embedded in their timetables
and that some of the staff members are already showing their
potential as therapeutic music practitioners, which is exciting to
see. We've also had some useful discussions about what further
support they'd ideally like.
We're now in Kamembe, in the south west of Rwanda, the
district where the training took place last year. Kamembe is
situated on the edge of the picturesque lake Kivu, the largest of
Rwanda's 23 lakes. It is peaceful and beautiful here and we are
enjoying having a weekend to recuperate, to catch up on work and to
generally reflect on our experiences from our fascinating and full
first week here.
At the beginning of next week we are going to visit both Ngwino
Nawe and Urugwiro, the two centres where the local partners who
delivered the training last year are based. We hope to find out
more about how the experience was for them. We will also visit the
sixth and final centre that took part in the two-day training
before returning to Kigali towards the end of the week.
Isabel and Una
Related projects
Capacity strengthening
2016

Tabakunde Exchange evaluation 2016

Rwanda

Children
Disability
Young people