Update from our Distance Learning Programme in Romania
Romania
Children
Disability
Projects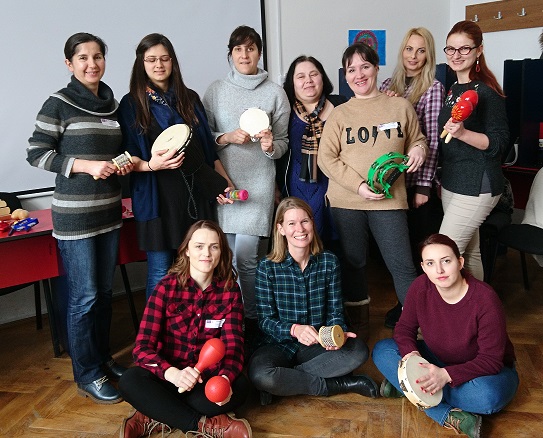 Just back from a fantastic weekend in Romania, delivering the Intensive Study Weekend component of our Distance Learning Programme to people currently working with young children with disabilities.
The teaching was shared between Alexia Quin and our local moderator and experienced Local Partner Monika Szabo. We had two long (snowy!) days getting to grips with some of the practical aspects of using music to help children achieve their potential. There was lots of learning, but also lots of fun!
When we asked what our students might be able to take back to their work after the weekend, one student fedback, "I have learned to wait, to leave space, to not hurry, to observe more closely, to look at the strengths of the children, and to enter into their worlds."
Our thanks to Doamna Prof. Stela Dragulin of the University of Transilvania for her hospitality and support, hosting the two days at their Music Therapy Centre in Brasov, and to Fulvia Constantin for making it all happen.
Related projects
Introductory training
2018

Distance learning programme: Romania 2018

Romania