Visiting our Local Partners in Constanta
Romania
Adults
Children
Young people
Disability
Mental health
Projects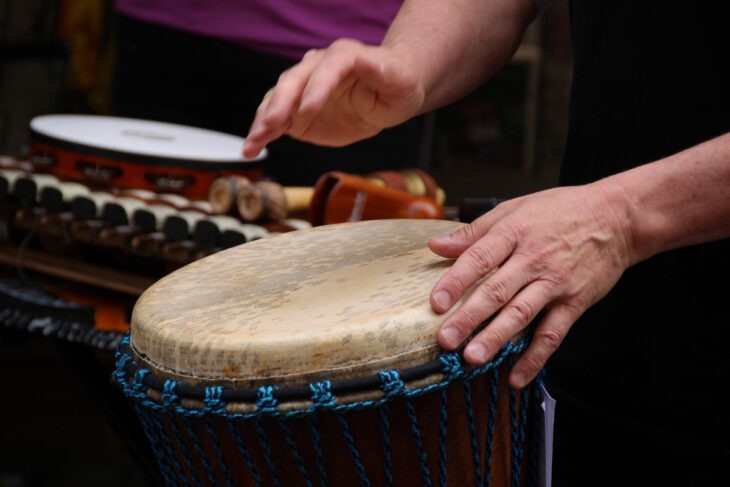 This posting comes from Romania where I have
spent two days in Constanta with fellow music therapist, Becca
Sayers. It is the first part of a visit where we will be
travelling around the East side of the country, visiting as many of
our Local Partners as we can.
There have been fountains, beautiful buildings, and exciting discussions with a range of people who are enthusiastic about using music in their work with children and adults, despite the barriers in their way. There is a commitment to making change happen, albeit tinged with frustration at how difficult this can be.
This morning we were welcomed into an open air music group being
held for the residents of a neuropsychiatric hospital in
Techirghiol. The staff received training from us back in 2000
and have really embraced it as a way to support their patients'
emotional lives. One of the group members introduced a song
which the group sang, accompanied by a CD, some of them using
percussion instruments as they sang. The CD was turned off
and each patient given the opportunity to sing solos. A range
of songs were performed, while the rest of the group joined in
singing, clapping or playing instruments. The session
leaders' focus on the soloist never wavered. They held the
large group and all their different emotional states, as song after
song poured forth. Romanian law prevented us from
photographing the patients and their music-making, but we were able
to audio record some of their singing and we will post this online
when we can.
As the group finished and we retired to the office, one resident
approached me and pulled from his pocket a well-preserved
photograph. "Do you know her?" he asked. I looked, and
was moved to discover the photo was of one of the original music
therapist volunteers who delivered the training that introduced
music into the hospital thirteen years ago. Often you don't
know the impact you have. Today, I felt we did.
From Alexia and Becca
Related projects
Support visits: Romania 2013

Romania

Children
Adults
Disability
Mental health
Young people