What I've learnt while trying to support our UK Partners during the pandemic
United Kingdom
Adults
Children
Dementia
Disability
Elderly
Young people
Projects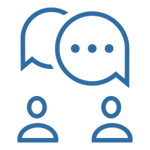 March 2020 feels like a very long time ago. But, looking back, it felt like we had hit the ground running: we had launched our new Strategy, and in the UK we were delivering one project already, with several more lined up. I was working for the charity full time, and had more autonomy around the design of our programme, and the freedom to think about how we presented our work more widely.
Although the Coronavirus had been on the news, it was not until it reached Europe that we realised it would definitely end up here, and not until it hit the UK that I fully comprehended how it would change the lives of our partners and our own team, too. Then, things moved quickly. On a personal level, I turned twenty six one week, while a national haze of Corona panic was beginning to take over, and the next week we were locked down. At work our project with Moss Park, which I had loved being a part of, came to an abrupt halt. All project development also stopped. We spoke about how difficult it was to concentrate and organise our work at that time, as we were in a kind of limbo, waiting to see how we could be relevant in the new locked down world. We navigated how to work from home on the job (see us on Zoom to the right!), and in the first few weeks it felt like we were just waiting for some kind of concrete foundation to form, so we could re-orient what work we were doing. Still, I was aware we were lucky to be able to work at home at all.
Could music really help?
Knowing our Partners in the UK were going to experience the pandemic in more intense and sustained way than most people, I wondered what if anything we could do to support them. We are a music therapy training charity, and our offer – though it has huge benefits – is quite niche. Was there anything we should offer that would genuinely help?
At the start of lockdown, my focus had been The Motivation Programme – our effort to embody 'true sustainability' for our Partners. Sustainability can sometimes be a buzzword, but for us, it just means walking alongside our partners until they need us, in a genuinely long-term way – six months or six years after a project. This involves building a personal relationship with partners so it's clear you're there if needed, while also not getting in the way, or imposing ourselves. It's tricky but important to balance both elements. I was worried it would be weird to suddenly reach out to everyone we'd ever worked with and offer support – especially as they were coming under considerable stress and my email would hardly be top of their lists.
There was definitely some initial low-level panic, and I was no exception. But after the period of 'what do we actually do now?' was over, it was clear that if there was need for us, it was going for be for a greater and flexible emphasis on The Motivation Programme (Stage 2: Sustainability), helping partners 'keeping going': the hard bit, after the project finishes. I started exploring how we might tailor The Motivation Programme to provide flexible support for our partners.
I felt strongly that music could be a source of meaning, connection and calm through the crisis, but needed to untangle how this would actually work in practice. We asked ourselves the question, 'what do our partners need?' But working out what this meant in a care context turned on its head, when our partners probably wouldn't have the time to speak to us in detail – or even use music -. was still a daunting prospect.
Walk before you run
I began by looking at what we already had as it felt like a 'safe' starting point. I had been about to put together our April partner newsletter – a new initiative in 2019, intended to inspire music use and create a stronger sense for partners of being part of a network. But, looking at the amount of information in the quarterly email, I couldn't imagine any of our partners actually reading all of it. I definitely felt that as things were constantly changing we should send our bulletins more regularly. I wanted them to be accessible and easy to read, with a few clear headlines taking you straight to the resource that resonated with you.
I was also thankful to have our new Activity Books for each of our client groups as a focus at this time. I had intended to produce them over the course of the year, but we sped up this process at the beginning of lockdown, eager to produce something tangible for our partners. The Activity Books provided them with a concrete resource from which they could pick and choose activities from according to their needs, whatever they found them to be. The bulletins (see an example here) and the Activity Book resources also proved helpful in a practical way for me, meaning I could genuinely speak to some partners and initiate some tentative conversations, where otherwise I might have felt awkward and insensitive reaching out at such a stressful time.
The bulletins started out relatively passively, as a way we could simply communicate solidarity to our partners and let them know we were available to them. As the months rolled on, I started to feel more confident about what we could offer: we piloted a Musical Instrument Fund, for example, for people needing additional resources given the emphasis on infection control; and we held an online meeting for early years practitioners to share their experiences and seek guidance from a music therapist.
As our partners continued to respond to and engage with what we were offering, it made my attempts at imagining what our partners needed feel more grounded in fact, and I felt we were definitely in some cases genuinely supporting people.. One partner working with people living with dementia said that the Activity Book was exactly what she needed, and another partner got in touch to say he'd shared the ALD Activity Book with his whole team – these messages made me feel as though our efforts had been worthwhile and that I wasn't just shooting emails into the ether. It also strengthened my sense that music could be a part of the solution, and could help the transition into the 'new service' with its 'new ways' for all our partners.
Still learning
Through these emails, I began to learn a little of our partners' own experiences first-hand, too. And although there was a sense of accomplishment and relief that we'd finally made contact, to hear first-hand what was happening in care homes was really heart-breaking and made me doubt all over again if anything we do could actually help. The crisis was at a huge scale and still increasing daily. This was definitely overwhelming. I felt I just had to hold onto the fact that although we could not fix the problem, we could have a positive influence on some individuals' experience of it.
Recognising that our partners had many other priorities meant I also looked for learning elsewhere. I spent hours horizon scanning for research and reports to understand what was going on in the wider sector, which helped me immeasurably to understand the rapidly changing landscape, and to contextualise our partners' experience of it.
This in particular was important because there is already a lot of underinvestment in both the care sector, and the lives of the vulnerable and marginalised groups MasT was created to enhance. When a pandemic like this puts pressure on already existing vulnerabilities, the system doubles down on its inequalities, and it was evident that pressure points would be at breaking point. Like everyone else, though, I couldn't have predicted that care homes would suffer in the way they have. Nor that the development of young children, taken out of nursery and school for five months, would be a high-profile casualty of the lockdown. However, as time wore on – fast and slow in the perpetual time vacuum of lockdown – these developments became more and more apparent.
As a result, care practitioners and early years professionals have certainly been thrown into the spotlight by COVID. Through tragic circumstances, they have been nationally recognised for their crucial roles ensuring the most vulnerable members of our society are kept safe. Working for a charity which has always championed the vital work of caregivers, it has been frustrating at times that their role hasn't always been valued as it should be. Now the 'crisis of social care' – i.e. underinvestment in and undervaluing of a service with rapidly growing demands – is being acknowledged nationally, too. I wonder whether this will continue into the future.
A month ago I would have said that I do not know where this will go. I still have no idea where we will be in terms of the Coronavirus six months or a year from now. However, the charity itself is used to working with uncertainty – thinking particularly about the fuzzy project model we promote, which tailors the loose outline of a training model to local need. This, ironically, has enabled us to come to a clearer position. We are in touch with many of our UK partners, and are canvassing them currently on how music has helped them, in what ways they think it will in the future, and how exactly we can aid this. This will ensure The Motivation Programme in 2021 is tailored to their needs – and much less daunting than when I was trying to guess what might be needed back in March.
Meanwhile, we are preparing the delivery of our Interactive Music-Making Course for early years practitioners to start in the new year, and we're working with a school to deliver introductory training as soon as the time is right for their staff and young people. We may not be doing all our training in the way we intended, but we are working at our partners' pace and adapting as and when is needed. In that sense, we haven't changed.
Related projects
Motivation programme 2020

United Kingdom