Additional Training for Local Partners (Rwanda)
Rwanda
Children
Disability
Projects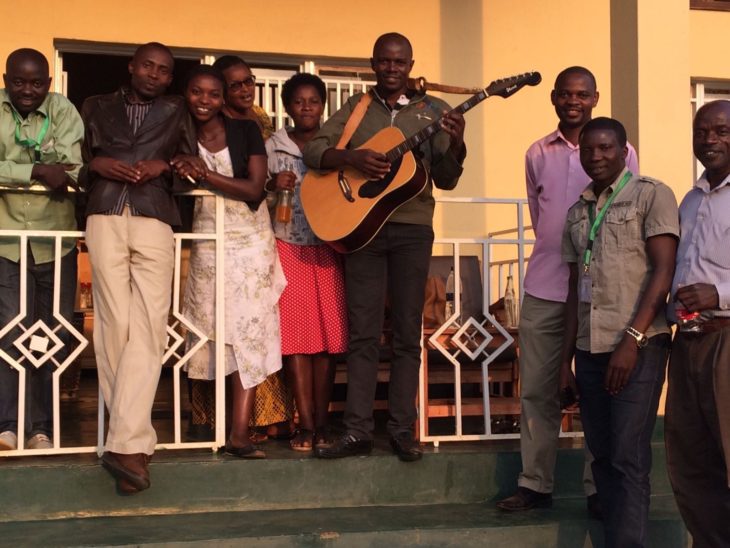 I'm lucky enough to be visiting Rwanda for the third time. But Lindsay, our new International and UK Programme Manager, is experiencing Rwanda for first time. As well as the many strands of the Rwanda Programme we are here to deliver, it also marks the end of my time as Music as Therapy International's Rwanda Programme Officer. So alongside the work we are here to do during this visit, is the important hand over of all our work in Rwanda to Lindsay for her to build on in the future.
So, what have we been up to so far?
First, a bit of background: In 2015 we hosted a National Conference in Kigali attended by staff from 26 different organisations across Rwanda working in one way or another with vulnerable children and adults, mostly with disabilities. The conference saw the launch of our Tubakunde Exchange Programme, within which staff from 6 centres received basic training in how to use music therapeutically in their work (and the musical instruments they would need to do so). This basic training was delivered by our Local Partners in Kamembe, who have been running music as therapy sessions for 6 years since receiving their own introductory training project from Music as Therapy International.
We evaluated the impact of the Tubakunde Exchange Programme in 2016, when Advisory Panel members Una McInerney and Isobel Bedford visited all the participating centres. Recommendations from these visits led to our current trip to Rwanda with activities designed to strengthen the Tubakunde Exchange Programme's impact ahead of it running again later this year.
Working in partnership with Rwanda Aid (a local organisation offering training and support to people working with vulnerable children) we have delivered two short trainings:
The first two-day training was for our Local Partners – the trainers within the Tubakunde Exchange Programme (and their colleagues). We used the time to consolidate and develop their understanding of how they can use music therapeutically, to respond to challenges they have been facing in their work and to help them refine their approach to sharing their skills with others as Trainers. It was an insightful two days. Lindsay and I were thrilled with the focus, interest and enthusiasm staff bought with them to the training; a willingness to share their knowledge and ideas, as well as their challenges.
The second two-day training was led by lead Local Trainers, Alphonsine and Audace. Alphonsine and Audace had prepared with a clear schedule for their training and Lindsay and I supported them to finalise its content and deliver it to 7 members of staff from 5 different centres caring for people with disabilities.
All staff who attended the training received a training DVD and a resource booklet to help implement what they had learnt. We will stay in touch with them to see how they get on and how we can support them in the future.
Although our time in Kamembe has been short, Lindsay and I feel we have achieved a great deal and we are extremely proud of everyone we worked with. We have really enjoyed the opportunity this week has given us to continue to develop our relationship with Rwanda Aid. We are excited by their hopes to develop local-led training to enable more staff working with vulnerable children across Rwanda to use music in their work. The need for such training has been highlighted in the feedback we've received from all the staff who took part in the trainings this week. They are so keen to learn new techniques to help them in their work and welcomed our suggestions and input. They all talked about how music really helps them to better understand the children they are working with, as well as to strengthen their relationships with them.
Huge thanks to Rwanda Aid for helping organise the training and housing us; Patrick for driving us where we needed to be; Alphonsine and Audace, for being willing take on the role of Trainers (and for doing a great job); Consuelo for housing and feeding the participants and Fidelle and Alexianne for their vital support with translation.
On to the next leg of the trip: first stop Kigali (getting ready for a new Introductory Training project which starts mid-July) and then on to Gisenyi to catch up with our Local Partners there and support them in the music programmes they've been running since 2014.
Hannah
x
Related projects
Capacity strengthening
2017

Training for trainers: Cyangugu 2017

Rwanda

Children
Disability
Young people