Audace's story
Rwanda
Children
Disability
Young people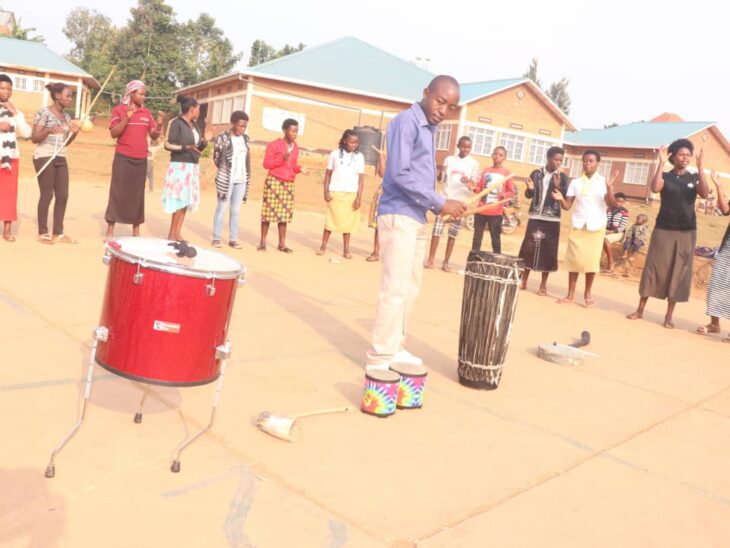 Audace Musoni first came into contact with the charity when working for Rwanda Action (formerly Rwanda Aid), a charity working to empower communities to reduce poverty and aid local development including the care, inclusion and opportunities for children with disability.
Although he cared for children every day through this role, due to many of the children having difficulty with verbal communication, Audace found that he couldn't form a deeper relationship with them. Then, in 2010 when the care setting where he worked became the host for one of our On-site skill-sharing projects, he discovered the solution was music.
At the time Audace could see how it created links between otherwise isolated children and developed their confidence. In beginning to use his new skills with music, his confidence grew, speaking at the time of how it gave him hope.
After several years of continued music practice, Audace requested additional training, so that he might begin to share his skills and experience on a local level. He subsequently teamed up with two other caregivers, Fidele Nshimiye and Alphonsine Musabyemariya to begin providing locally-led introductory training to care settings and caregivers in the region.
After a number of these activities, as a pioneer for the practice Audace has become one of the leading lights for the use of music in care within Rwanda. He is also prime example of local leadership. During the Covid-19 pandemic of 2020, Audace proposed plans for a series of training workshops for caregivers from around the country in one of the most ambitions undertakings of any of our Local Partners anywhere globally.
The participants loved it… the trainees wanted the training not to end… The participants wished there would be more training for those who came to this training to further reinforce what they had learned.
As with so many instances during his story, Audace's belief in himself and the power of music to enhance care acts as an inspiration to his colleagues, peers and other Local Partners around the world.
Related projects
Capacity strengthening
2020

Locally-led training: Muhanga 2020

Rwanda

Children
Disability
Young people

Capacity strengthening
2019

Locally-led training: Cyangugu 2019

Rwanda

Children
Disability
Young people

Capacity strengthening
2019

Locally-led training: Community-based Living (Gisenyi) 2019

Rwanda

Young people
Children
Disability