An update on developing the Music in Dementia Care Online Training Course for India
India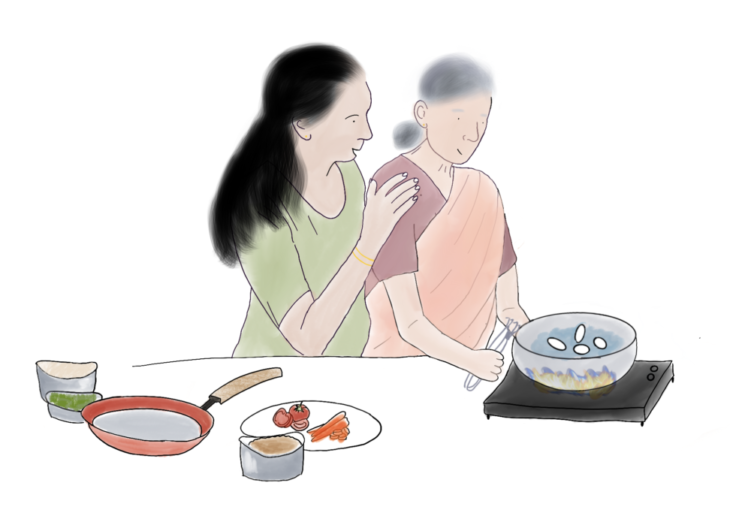 Last year we saw a boom in online courses, conferences and workshops owing to the social distancing guidelines recommended by governments in most countries around the world. Prior to 2020 I had never attended a webinar, nor did I know what Zoom was. I find it ironic that although I began to develop an online course in 2020 just like everyone else, it happened not to be motivated by Covid-19.
The journey of the online dementia program Meeting in Music began in early 2019 when I visited Kshetra, an assisted living and dementia care facility in the outskirts of Hyderabad, India. Pavithra Gangadharan – the director of Kshetra, had reached out to Music as Therapy International (MasT) asking for introductory training for her staff. As I was living in Hyderabad at the time and had previously worked with MasT, I was requested to meet with Pavithra to gain a better understanding of Kshetra's needs and think about how music therapy could be of relevance there.
At first, I assumed that MasT would offer Kshetra a 6 week skill-sharing project, similar to the many others they had successfully done in the past at several other facilities in Hyderabad. When I met Pavithra, however, she said something that really stuck with me, "Nina, I do not want Music as Therapy International to support us in setting up a weekly music group – I want music to become an integral part of our daily care". In India, the majority of individuals living with dementia are being cared for at home. It made me wonder how we could possibly reach all these families and support them in using music when caring for their loved ones.
That's when I remembered "Mötas i Musik". This Swedish phrase translates to "Meeting in Music" in English. Mötas i Musik is an online training course which consists of exercises, illustrations, interviews and video examples to support and inspire care workers in finding a place for music when caring for someone living with dementia. The course was developed by music therapist Katarina Lindblad together with Demenscentrum, a foundation (funded by the Swedish Ministry of Social Affairs) that works to provide support and to raise awareness about dementia through online courses and books. What if Mötas i Musik could be adapted to an Indian audience?
India has a vast population of nearly 1.4 billion and the second highest number of individuals living with dementia worldwide. Currently there are about 4 million individuals living with dementia in India but this number is expected to rise to 7.6 million by 2030. Given this, and the fact that more and more people in the country, including middle- and lower-income groups are gaining access to the internet through their phones, tablets and computers, the potential of an online course felt endless. An online course in using music in dementia care…
… would have the ability to support families caring for someone living with dementia by giving them tools on how to use music to communicate, manage stress and challenging behaviour.
… could reach far more families than I alone as a music therapist ever could in person.
… could easily be made available on different platforms (phones, computers and tablets) and translated into several different languages (India has 23 official languages and hundreds of dialectal variations).
Such a course has never been done before in India, but having one foot in Sweden (being born and raised there) and one foot in India (which I consider to be my second home), I felt confident that I would be able to translate Mötas i Musik not only in regards to language but also culturally and musically.
My work began in February 2020 and what a journey it has been so far! It has been quite a steep learning curve for me, learning how to program animations, edit audio and create interactive videos. I also bravely (or perhaps naively) offered to make all the illustrations even though I had never made illustrations before in my entire life, and discovered that I thoroughly enjoy it. I feel very grateful for, and also humbled by all the support, insights and useful guidance I have received from others who believe in this project -the MasT team, music therapists, singers and psychologists in India who have all contributed with their expertise (Alexia Quin, Makeda Mithcell, Pavithra Gangadharan , Purvaa Sampath, Saadiya Hurzuk and Eshwari Rapola – thank you so much for all your help!) I also came into contact with a vibrant Indian diaspora, which I never knew existed in my hometown of Malmö in Sweden. They have graciously participated as actors in some of the instructional videos, and as translators and narrators despite no previous experience in the field. I feel so enriched by this journey and I really hope that those who will participate in the course will benefit from this course.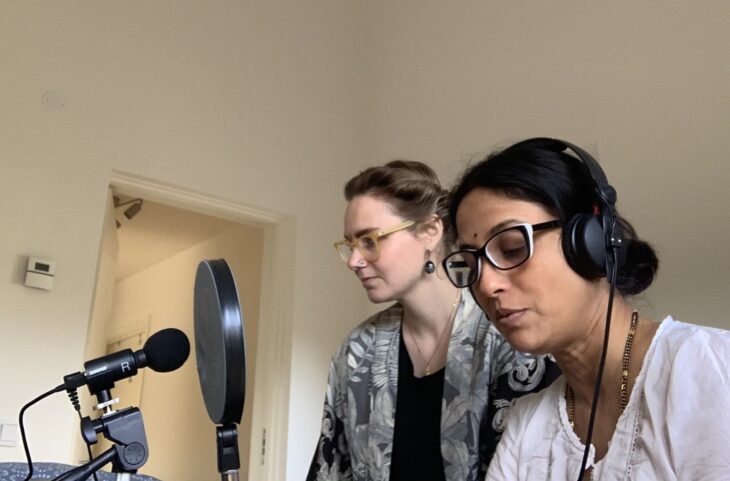 There is still quite a lot of work to be done to complete the course content and then the process of piloting the course with the staff from Kshetra. There will without doubt be adaptations needed, but I'm hoping it does prove possible to share skills to embed music into dementia care via an online format. Knowing the success of Mötas i Musik and the positive response we've had from people hearing about the course I believe this course can make a difference. And although Mötas i Musik gave us a fantastic starting point, the process of cultural adaptation is complex, and it is vital to get it right in order for the training to be meaningful in a new cultural context. So do wish me luck, dear readers, on this endeavour, and I will be back soon with more updates in a new blog post!