Announcing a new project in the Occupied Palestinian Territories
Occupied Palestinian Territories
Children
Mental health
Projects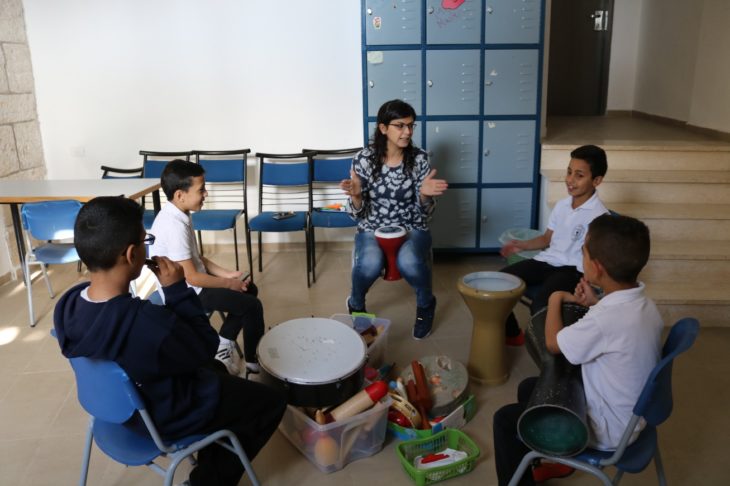 Back in 2012, we responded to a request from the Evangelical Lutheran Schools to deliver introductory training to staff working in 3 of their schools in the towns of Beit Sahour, Bethlehem and Ramallah in the Occupied Palestinian Territories. Social Worker Samar, has continued running music sessions for 6 years, but other staff have changed roles or moved on during this time. The schools are keen to train new members of staff to keep music programmes going across all three schools.
When we visited the team in November 2018, we were inspired to hear the following story from a parent of one of the chidlren who has benefitted from music sessions with Samar. It served to strengthen our conviction that music programmes in these schools can make a massive difference to children facing challenges:
My son has been in the music programme for two years and since this year we have seen changes in his character. We also discovered his talent for playing drums. The sessions help my son develop his abilities in many ways and gives him the opportunity to make good use of his energy. It makes him more self-confident and his relationship with his friends has improved… He also learned to listen to others and to accept and follow the group rules. Music therapy is a method that helps students discover themselves as well as potential talents, and is vital to the school program.
We are delighted to be working together with Samar to help her share her skills and experience with new staff in the three Evangelical Lutheran Schools. In 2019, we will provide further training and then support these staff to put their new skills into practice and re-establish music programmes for the children they work with.
Our thanks to Dr. Charlie Haddad, Salameh Bishara, Georgette Rabadi, Tony Nassar and Naseef Muallem for their commitment to making music available to their students, and to Samar, Liz Coombes, Alexia Quin and Hazel Child for drawing on their combined music therapy experience to lead this project for us.
Related projects
Introductory training
2019

On-site skill-sharing: ELCJHLS (Beit Sahour, Bethlehem and Ramallah) 2019

Occupied Palestinian Territories