Call for a contributor to a project in our India Programme
India
Dementia
Elderly
Projects
Get involved
Recruitment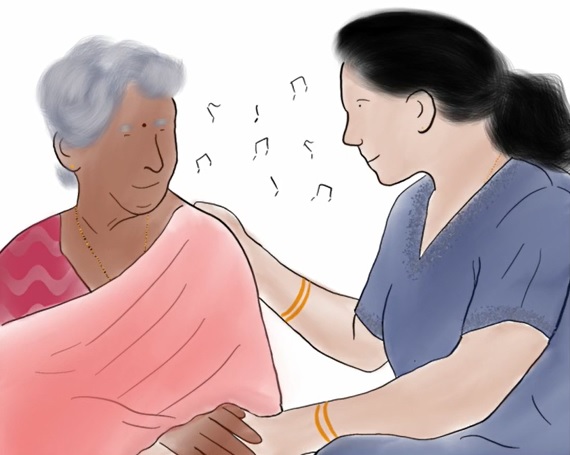 This is a call for a contributor to a project in our India Programme!
We are currently creating an online course designed to help caregivers in India think about a role for music for people living with dementia. It comprises concepts explained through illustrations (as you can see below), video clips, interviews, stories and demonstration activities which will be accessible in Hindi, Telegu and English.
We would like to interview someone with an Indian heritage who is caring for a family member living with dementia at home. We're hoping their experience might help illustrate some of the challenges of caring for someone living with dementia, what they have found that can help, and also where enjoyment can still be found. The interview would be done by our music therapist, via Zoom, and would probably take about an hour. An extract of the recording would then be embedded into our online training course.
If you are someone who could help and would be interested to contribute to our project in the ways we've asked, please contact us. Or you can also help by letting others know so we can find a contributor. Thank you!