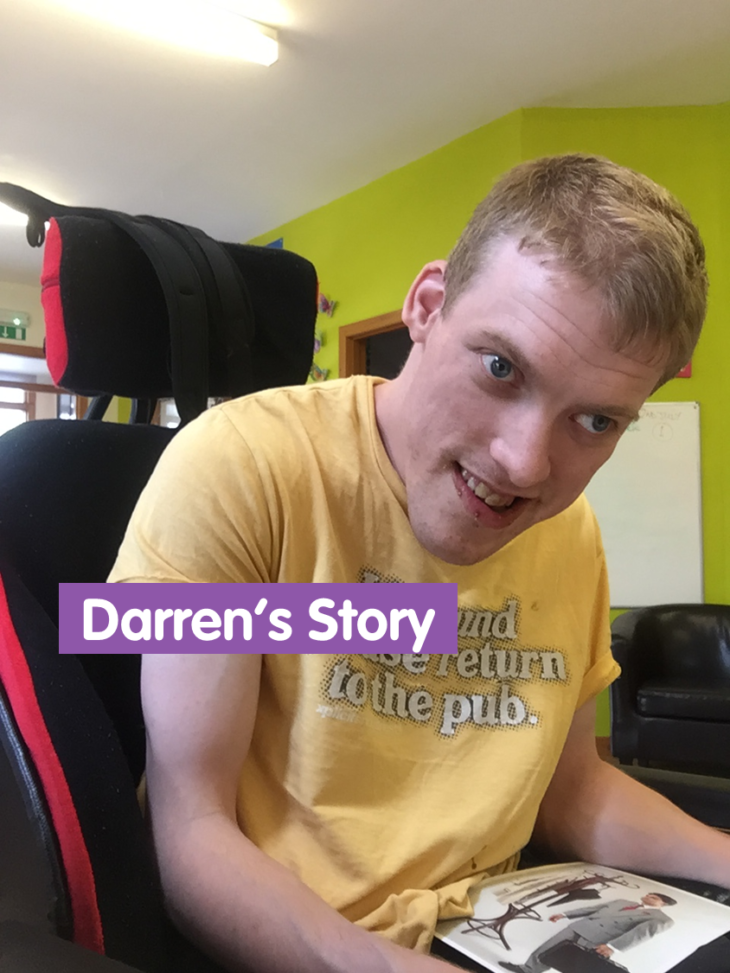 Geoff Hewitt is a Senior Practitioner at The Montrose Centre (offering residential living and day activities for adults with learning disabilities), and has been a Music as Therapy International partner for three years. In response to our Summer UK Partner Newsletter, Geoff sent in Darren's feedback on what emusic sessions mean to him (pictured, right):
I asked Darren what he likes about the sessions and he replied "they're really really good." In fact, I often ask him at the end of a session to give me a mark out of 10 – it's never less than 10! Because Darren uses a wheelchair and has some difficulties with his arm movements, he also comments that sessions are "good exercise for his arms."
As the group can be up to twenty plus people, not everybody gets to choose a song each week, and Darren told me he appreciates that he "gets to pick songs sometimes." Some musical favourites are the 'days of the week song' because "it's a nice tune, and it's active" or the Makaton songs – we've done 'Sailing,' 'Roar,' 'Wonderful World' and 'Somewhere over the Rainbow' so far.
I like that it's not all about me.
Darren likes "when other folks pick different things out of the box (of musical instruments) for me to play," and says the key thing he gets out of music sessions is that he's "really really good at listening." The final thing, which stopped me in my metaphorical tracks, was when Darren said: "I like that it's not all about me." This is such great feedback given the importance of social activities for our group participants.
That this story comes several years post-Introductory Training is a fantastic example of the lasting impact music projects can have, and we have sent Geoff and his team at Montrose a Slit Drum in recognition of his dedication. If you or someone you work with has a story to share, please get in touch! We might be able to add a new instrument to your collection too.
Related projects
Introductory training
2016

On-site skill-sharing: The Montrose Centre (Fort William) 2016

United Kingdom