Deadline Extension for Abstract Submissions for Romania Music Therapy Confernece
Romania
Children
Disability
Projects
Get involved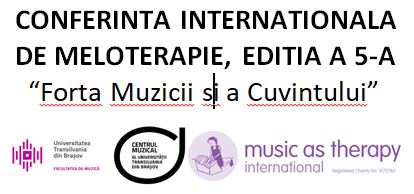 Romania's 5th Music Therapy Conference is taking place this autumn. It's an exciting milestone and one that Alexia and two members of our Advisory Panel, Clare Reynolds and Hazel Child, are looking forward to being part of.
The message below is for our Romanian partners, who we hope to see there:
Ne face placere sa putem sprijini cativa Pareneri Locali in participarea lor la a 5-a Editie a Conferintei de Meloterapie ce va avea loc la Universitatea Transilvania, Brasov intre 14 – 17 Noiembrie 2019. Termenul limita pentru depunerea unui abstract de prezentare sau atelier in cadrul conferintei a fost prelungit pana pe 1 Octombrie 2019. Va rugam sa considerati posibilitatea de a va prezenta munca in cadrul conferintei. Stim ca sunteti foarte dedicati folosirii muzicii in lucrul cu copii si adulti si ca aveti o mare experienta in lucrul terapeutic prin muzica. Aceasta conferinta este o oportunitate fantastica de a sarbatori munca voastra! Inca mai punem la dispozitie cateva burse care sa sprijine participarea voastra la conferinta. Pentru mai multe detalii ii puteti scrie Magdei la magdapata@musicastherapy.org. Alexia va prezenta in cadrul conferintei, precum si alte doua terapeute din Marea Britanie, Hazel Child si Clare Reynolds. Veniti alaturi de noi in acest weekend stimulant, plin de studii de caz, prezentari si ateliere. Ne vedem la Brasov!
Related projects
Capacity strengthening
2019

Conference participation: Brasov 2019

Romania

Adults
Children
Dementia
Disability
Elderly
Mental health
Young people