MacIntyre No Limits: final blog and reflections
United Kingdom
Young people
Disability
Projects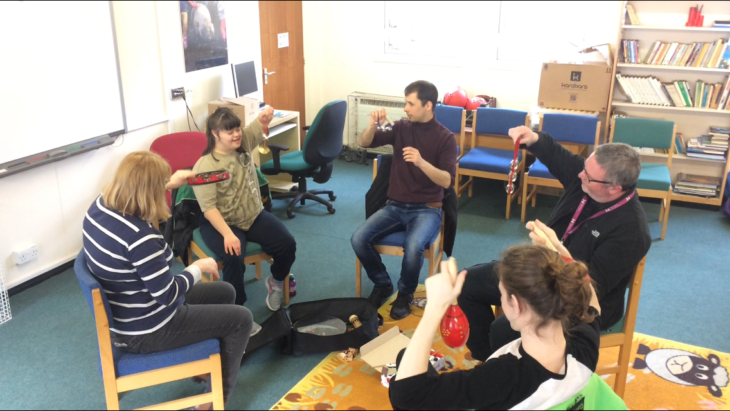 Since January this year, music therapist Susanna Bajali has been delivering an Introductory Training Project at Dell Farm, with a group of teenagers and young people and their support workers. The project has been run in collaboration with MacIntyre's No Limits programme, which provides educational opportunities for children and young people who cannot currently access mainstream education. Last week, Susanna led a final session with staff, to consilodate their learning. Here, she reflects on the project as a whole…
It's hard to believe we've reached the end of the MacIntyre Introductory Training Project! In some ways, it feels like the time has flown by. But when I think back to the beginning and where we started, it's clear just how far all the participating staff at Macintyre have come – what they have achieved is suggestive of a much longer time!
Seven members of staff have completed the training and four service users have participated in the groups. Over the course of the six weeks, the staff have gradually taken over parts of the music sessions. Just two weeks ago, the staff led their own music session without any involvement from me. They did so with confidence and enjoyment, even improvising new songs and activities in response to the service users!
As well as seeing the staff grow in their confidence and creativity, it's been wonderful to see how the service users have engaged with the music – enjoying opportunities for leadership and agency through conducting activities, having opportunities for non-verbal interaction and communication with peers, and generally just having a really fun time playing with the instruments. One service user surprised us all by saying some new words during our sessions, which was wonderful.
One of the groups has had to manage some challenging behaviour from their service users and we have thought together about how, in the music through affect attunement, the service user can have their difficult feelings acknowledged and feel heard and understood. This has been an important shift in thinking for some staff – not just thinking how to manage and deescalate the behaviour but to also to try to think about what that behaviour might be communicating and how the service user might be supported to develop their emotional awareness.
For the final session last week, the staff attended without their learners. This was a really key time to consolidate their learning and reflect on the training. Alongside some more theoretical teaching from me, the staff also reflected on their experiences over the past weeks, the challenges and successes, shared their 'top tips' and also their thoughts and ideas on how to make the most of their new skills within MacIntyre going forward. Between them, the staff members trained cover three geographical bases, so the impact of this training has the potential to be wide-reaching. During this final session, one staff member described how during the training it was "like a door was opened and the horizons expanded with what I can do with music". This was really wonderful to hear and I hope those horizons continue to be expanded as the staff start their own music groups!
I am immensely proud of the staff who have completed this training – they have each done so well, putting themselves out of their comfort zones and trying new things, and I am confident that they will make a big difference to the lives of the service users they support and within MacIntyre more widely
Related projects
Introductory training
2019

On-site skill-sharing: MacIntyre No Limits (Luton) 2019

United Kingdom