New Introductory Training Project – Rwanda
Rwanda
Disability
Children
Projects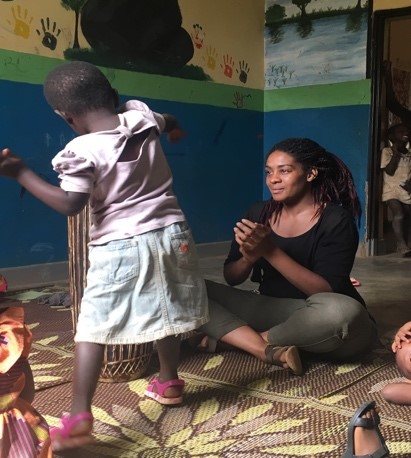 We have been in Kigali for almost 3 weeks already and can't believe how fast time has flown. We want to take you through our introduction to Rwanda and our project base, the Hope and Homes Centre*.
*The Community Centre serves around 600 members of the local village including children (pre-school in the mornings), youth groups and support groups for parents (afternoons). It is run by the charity Hope and Homes for Children and run by a local volunteer team.
Week 1
Our first 5 days at the centre were spent meeting the staff and observing how classes take place. We were chuffed to see how much music was used, how enthusiastic teachers were (and still are!), and the difference in engagement when children used songs to learn. After just two days we jumped in at the deep end and led a staff introductory workshop. There is no way to truly capture how enjoyable this was for both parties, so here's a little picture to show you!
The workshop really let us get to know the staff better through music, explain the innovative Music as Therapy International approach and start our collaborative journey with the crash of a cymbal (spot the music in jokes 😉 – we have more to come guys!). In the group we had a cross section of staff from management to supportive staff and teachers.
You can't see this from the picture but staff were quite shy to begin with, however after some group activities everyone started to loosen up; and it was a great way for professionals of every level to interact and have fun. One of the managers shared he'd felt tentative about how to interact with colleagues without being viewed as the manager, but quickly noticed the way music can engage everyone irrespective of role, ability or differences. This was a great starting point! It emphasised the aim of our work at the centre and the many benefits we aim to achieve here. Although with some language barriers -but with a lot of help from Olivier- it was great to hear the staff positively respond to the activities and tell us they could already see this would be beneficial to children, especially to those who lack confidence and have speech delay.
The rest of the first week was spent observing classes so we could tailor the project to our local partners' schedule. Children from the local community access the centre where free lessons are provided (early years education in Rwanda is not state funded, and many parents in the local area cannot afford the associated costs). We immediately noticed that the teachers were managing very large classes. Here was our first focus, using music to enhance learning and engage all children in class based exercises. Teachers told us about the range of psychological, social and educational needs for a small group of children in each class. So, our other focus was to run smaller groups to support these children.
As this was our first time in Rwanda, we were a little anxious the first few days and tried to learn the lay of the land (most importantly, where to buy chocolate when we missed home), but we received such a very warm welcome from the staff of Hopes & Homes, and those at the community centre that it made us feel at home very quickly! After some hesitation, Lindsay encouraged us to hop onto Motos, a widely used local form of transport, we have not looked back since and have become quite the pros! At the weekend, we wandered around Kacyiru, our neighbourhood, and enjoyed a great evening of food and music with Olivier, Innocent, Vidivi and Antoinette who very generously treated us to traditional Rwandan food and music. We then had to say a farewell to our Music as Therapy International mother, Lindsay. She really helped us settle into life in Rwanda and setup the project.
Week 2
After a week of observing and discussions with the local staff, we started implementing activities in each class to improve confidence, support their English language teaching, develop relationships and self- expression. Each teacher was given a specific exercise that they were shown over the course of the week. As the weeks progress they will learn these, and many more, which they will then teach to their colleagues.
The children were so enthusiastic about us coming. Each day they would shout our names gleefully as they heard the instruments being brought to their class. Over the week we have already heard some teachers using the activities we had taught them. We were pleased to see how quickly the teachers were picking up the songs!
[Picture: Music Therapist Cerrita Smith running early sessions]
Week two was the penultimate week before local elections and the afternoon schedule at the centre differed a little. This week we saw first hand how older children use the centre. We were treated to a dance class (observing of course, although Sam did bust a few discreet moves!). The dance classes combined traditional Rwandan dancing with modern dance to create a new style. We led our first staff meeting to go over some of the activities we had implemented and received positive feedback from the teachers. One of the teachers fed back that he could already see how much this project would benefit the centre.
At the end of the week, one of the teachers took us on a tour of the local area. While there we heard children and adults practising for a church choir, then we ventured into the local market and tried local foods
As part of our own explorations, this week we went on a Kigali city tour which ended at the Genocide Museum. We were incredibly moved by this beautiful memorial and it helped us to learn more about the history of the country, the need for the project and its context. We would recommend anyone visiting Rwanda takes an afternoon to visit the museum.
Week 3
As we continued with skill sharing activities, teachers started co – leading some activities and becoming more active during music sessions. The teachers have been quick to grasp exercises and their motivation is infectious! We started a body percussion/drumming group with the youth which was met with a lot of laughter and bruised legs! John, the Art Teacher, showed interest in continuing to lead this group once we have left. With this in mind, we went to our favourite hang out (Caplaki Art's and Craft Market) to buy some more drums. Later on, Samantha was spontaneously serenaded by two young children stood across the road whilst we waited for the bus. In the spirit of improvisation she sang back!
This week we were also treated to an afternoon observing the women's group making tofu. As soya beans are a local product, we were shown how versatile soya beans can be and from these we were introduced to delicious tofu samosas, fresh soya milk, tofu dough balls and even tofu bread! Sadly we don't have pictures of the finished product (because we ate them too quickly) but we took pictures of the process.
At the Centre this week, Cerrita started leading small groups with the children that we observed as having additional needs such as speech difficulties, behavioural needs and/or low self-confidence. Groups were attended by one teacher in order for them to observe the benefit of small group activity. We received some very positive reactions to these groups from teachers and children. Children who didn't interact much in their respective classes were much more responsive in a smaller group environment, they could also be given 1:1 support that is often not possible in such large classes. Teachers showed real enthusiasm to continue this format with children and have offered to come back to the centre out of their usual schedule to workshop more small group activities.
While Cerrita was leading a small group, Sam had an impromptu music session with a mother and her baby whom were outside. Both Mum and baby were very curious about the instruments and explored these. Mum was naturally responding to the baby and started incorporating the instruments into this. A spontaneous musical interaction emerged with Mum and baby copying each other musically to create a playful musical conversation. Gradually more children joined in and an improvised group jam was created. Everyone of different ages, from 9months – 60years, participated; they clapped, danced and interacted together. We hope to develop this work over the remaining weeks within a monthly playgroup that happens at the centre for parents and infants. We are keen to introduce some musical activities into the group to continue the relationship building.
So, that has been our first three weeks in Rwanda. It has been an exciting rollercoaster and we cannot wait to see how the next few weeks develop. We feel so lucky to be here. Keep you posted again soon.
Samantha and Cerrita
Related projects
Introductory training
2017

On-site skill-sharing: Kigarama Community Hub (Kigali) 2017

Rwanda