Music and care in the community
Rwanda
Children
Disability
Young people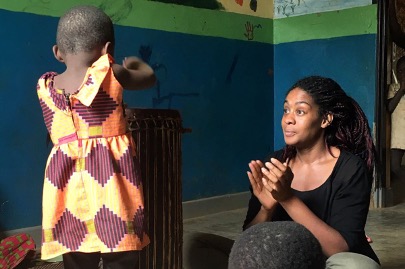 In 2017, music therapist Cerrita Smith and project assistant Samantha Zeiher delivered their first project for the charity over six weeks in Kigali, Rwanda. The on-site skill-sharing project was tailored to caregivers working in a community hub which formed part of the country's newly developed family based care system.
Upon arrival, it was clear music already formed an important part of the daily routine, so the initial focus was to provide musical activities the caregivers could include in their sessions. The goal was to support learning, encourage self-expression, develop patience, communication and listening skills.
The volunteer project team worked alongside teachers and caregivers with a range of group sizes, from more than 40 pupils to smaller groups of 3 or 4 children with speech, language and behavioural challenges. In doing so, they were able to share the skills that would be most relevant in different situations and contexts. As a result, they witnessed some remarkable changes in the children taking part in the music sessions.
One girl, Fiona, initially refused to engage with the other children or respond to verbal communication, often becoming distressed when she felt she was being watched by others. Yet by the project's completion, she was joining in most activities, singing and even standing and drumming in the middle of a circle of her peers.
There were so many children like Fiona who we witnessed make incredible progress during the music skill-sharing programme – it was fantastic to see the staff gradually begin to understand how music really can make a difference to lives and gain the confidence to run sessions without us.

Samantha Zeiher, project assistant
Over the six weeks, staff members grew more and more enthusiastic as they were able to see a change in the children's responsiveness to the activities. 
I wish I learned these skills during my teaching degree in teaching! The music as therapy had a positive impact on how we view behaviours and the children's' focus. Everything about this is beautiful! I have new skills that I can teach others.

Caregiver
Cerrita and Samantha trained and supported 10 members of staff at the community hub, in the process creating opportunities for more than 760 children to access interactive music-making as part of their care and education.
Related projects
Introductory training
2017

On-site skill-sharing: Kigarama Community Hub (Kigali) 2017

Rwanda