Our final Partner Newsletter of the year: focussing on young children under five
United Kingdom
Children
Disability
Projects
IMM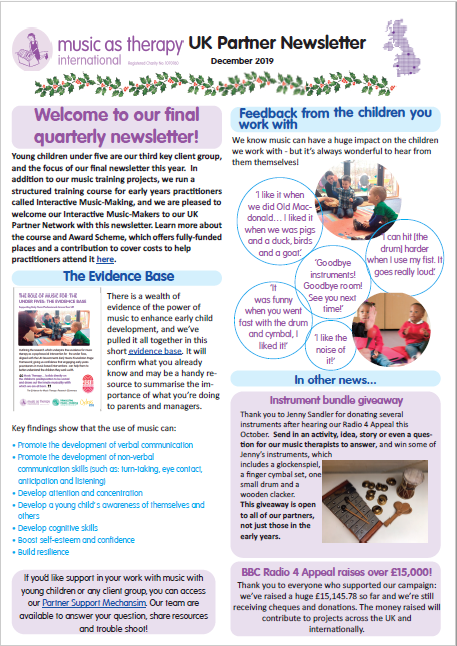 We've loved sharing our UK Partner Newsletter with you all this year, and look forward to four more editions in 2020 (find all newsletters on our UK Resources Page).
To top off the year, our final newsletter focusses on our biggest client group: young children under five. This is because our Interactive Music-Making approach to working with the under fives covers both our tailored skill-sharing projects, and our structured IMM training course – which you can find out more about on its dedicated website.
In this edition, we share the latest Evidence Base: The Role of Music for Young Children Under Five, some feedback from the children our partners have worked with, an instrument bundle giveaway, a new activity shared by Interactive Music-Maker Claire Matthews and information on how to take part in one of our CPD Events in 2020… It's not one to miss!
We are always on the lookout for your stories, ideas and activities, and our instrument bundle (glockenspiel, drum, cymbals and clacker) is this edition's prize for sharing something – big or small – with your partner network.
As ever, any partners who would like to sign up to receive the newsletter digitally just need to email freyagibbs@musicastherapy.org – you will receive a free pair of MasT egg shakers, too!
Related projects
Motivation programme 2019

United Kingdom