Our skill-sharing project with Caol Primary School begins!
United Kingdom
Children
Mental health
Disability
Projects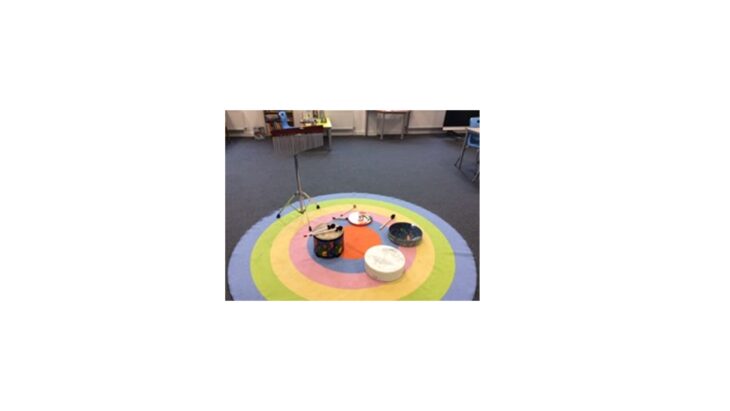 Advisory Panel member Clare Reynolds is the lead music therapist for our latest skill-sharing project, designed and delivered in collaboration with Caol Primary School, in the Scottish Highlands. This is a pilot project looking at the impact of the skill-sharing approach within mainstream education settings. The project aims in particular to address the pandemic's significant impact on the mental health needs and wellbeing of children and young people. Here, Clare shares her experience of the first week of project delivery:
Well, it might have been a horrible wet day in Fort William today, but it certainly did not deter the energy or spirit (quite literally with Halloween in a few days) at Caol Primary School. I was very excited to arrive in the school to unpack our new instruments funded by Music as Therapy International and set up the room for the afternoon ahead.
We have created an ambitious timetable to say the least – with a plan to train nine staff working with 16 pupils. Of course, it's that time of year when not only witches are flying around but lots of bugs too, and with Covid on top of that we did miss several children today as well as a few staff who were absent.
Nevertheless, the afternoon was non-stop, but it was fantastic to get going with the project, meet the fabulous youngsters and staff and begin the groups and individual sessions. We had some lovely music making and positive responses from both staff and children. The new instruments, pictured, were certainly a big success!
We looking forward to sharing more updates from Caol with you as the project progress. Keep an eye on our blog and facebook page to hear more! Are you interested in a skill-sharing project at your care or education setting? just get in touch.
Related projects
Introductory training
2021

On-site skill-sharing: Caol Primary School (Fort William) 2021

United Kingdom