Project Beit Sahour: Week 2
Occupied Palestinian Territories
Children
Disability
Mental health
Young people
Projects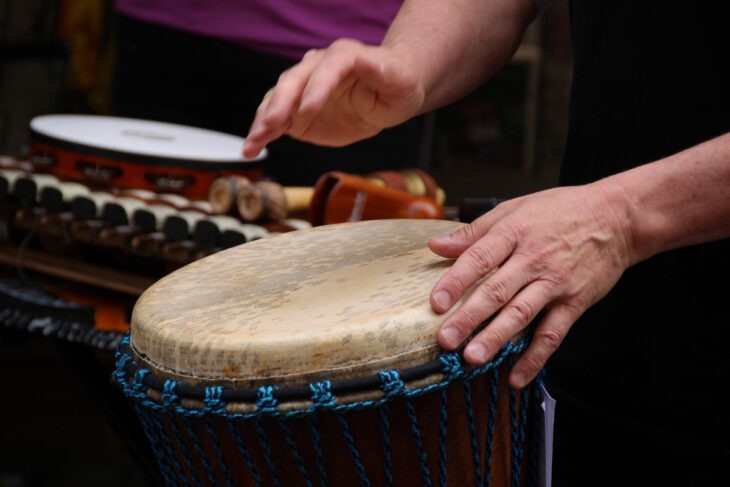 At the end of our second week in Beit Sahour, the project is really taking shape. We have worked with students in all three schools and been met with good responses, enthusiasm and interest. The staff are all working hard alongside us, making the most of our time together and enjoying the songs and games. When we gathered for a training session on Thursday afternoon, there was much discussion about details, questions and concerns. Then food arrived to cheering and singing, before we played music together. Children gathered in the
playground to listen – what are the teachers doing?? sounds like
fun! Can we join in? And so everything that happens impacts
positively on the expectations and interest in the school
community.
Yesterday we went to Ramallah, to the Hope school. We have least time to spend in this school, and Teleri and I were a little concerned
about how effective we could be in a few short days. We need not
have worried! The staff here, Anita and Mary, had set the scene
perfectly, so all was ready to simply begin. Again, the children
responded very well, and are keen to see us again next week. I felt
quite emotional as I looked at the room set out as perfectly as any
space would be in England, carpets carried in to cover bare floor,
chairs in a circle, instruments in a box, the space far from
interruptions and the children fetched for us. To put
this in context, the music teacher will carry a similar small box
of instruments to each classroom in turn to teach his music
lessons. I feel very honoured by the trust placed in us and the
value placed on our work.
There has been time for other things too! I attended the church at Beit Sahour last Sunday, and found a warm and friendly welcome, and
offers to visit different places and institutions, including a
school for children with Special Educational Needs. We will try
very hard to visit that before our stay is over.
On Tuesday, we were invited to a concert at the Edward Said
National Conservatory of Music, which is a new building of a long
standing organisation providing music education for all ages. The
official opening concert had been the previous Saturday, when
several well known performers had given a recital; but I think we
had an even better deal, as we listened to some of the students who
have been learning to play. It was wonderful, two piano solos, one
well known, one delightfully original and a set of guitar pieces
was part of the evening, but the rest was a set by traditional
Arabic instrumentalists, first accompanying a children's choir and
second playing the most exciting fusion of trad and jazz I didn't
want it to end! The troupe is led by Waseem, the new music teacher at ELS Beit Sahour, who is going to bring about some great changes in the musical life of the school, I think, and is keen to support our Music as Therapy work. This is very exciting, and arrangements have been made to discuss ideas before we have to leave.
Yesterday was my birthday, so we went dancing in the evening in a bar called Cheers! It was like being at a party with our friends. And you'll be pleased know that before we went we wrote 46 postcards to our supporters, which we will post as soon as we manage to buy some more stamps. The postal service here is a shy creature, and needs to be carefully courted!
Hazel and Teleri
Related projects
Introductory training
2012

On-site skill-sharing: ELCJHLS (Beit Sahour) 2012

Occupied Palestinian Territories

Children
Disability
Mental health
Young people