Recruitment now open for 2 Music Therapy Trainer Positions (Ethiopia)
Ethiopia
Disability
Elderly
Mental health
Young people
Children
Adults
Recruitment
Get involved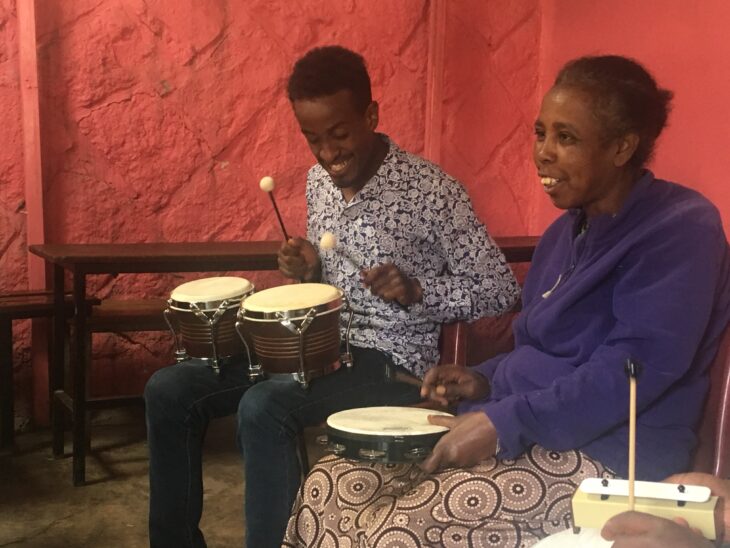 After 2 years, we would like to travel back to Addis Ababa, Ethiopia, to visit our existing Local Partners across 3 care settings to provide additional support to their music programmes and to deliver a new introductory training for health professionals at a psychiatric clinic. So we are currently looking for 2 music therapists to lead this 4-week project in the autumn this year (15th October-12th November 2022).
Full induction, support and supervision will be provided before and during the project delivery. Additionally a Music as Therapy International representative will be in Ethiopia to oversee the first week of the project and provide onsite support to the recruited team, and further support will be provided regularly throughout project delivery, from a distance.
If you are a music therapist and are interested in being involved, you can read more here about what the project will entail and what we are looking for in a music therapist. The Application Form can also be download here. If any help is needed to complete the application, please contact Makeda Mitchell (makedamitchell@musicastherapy.org).
Application deadline: 24th July 2022
Interviews: Tuesday 2nd August 2022 (We appreciate people may have holiday commitments, so if this specific date is not viable we will do our best to accommodate applicants' availability)
Or if you know a music therapist who would be interested, please feel free to share this opportunity.