Makeda's Travel and Project Experience in Romania
Romania
Children
Disability
Projects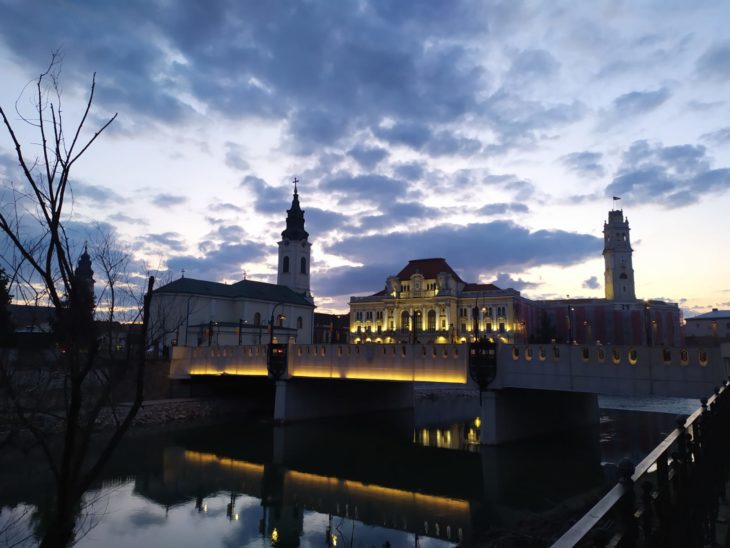 At the end of last month, two projects were delivered in Romania and for the first time I was fortunate to actually see how the delivery of our projects unfold. Read through my blog below, which details my travels to Romania and my experience of our projects…
Day 1
It was an early start to my travels to Romania for the first time and I was filled with excitement despite also being sleepy. Whilst Alexia and I made our way to the airport, we were surprised to see it was snowing and it seemed that the UK did not want us to leave as the snow delayed the departure of our plane for over an hour. We landed at Debrecen Airport in Hungry, as it was the closest airport to Oradea in Romania. A minibus was arranged to take us across the border, but the hour delay meant that there was the possibility that our transportation was no longer waiting for us. To our luck, a blue minibus was waiting for us and other passengers on the plane. It was pleasing to know that the minibus journey was only £9 per person, especially as that amount of money would not allow anyone in the UK to cross borders between Scotland, England or Wales. As I am part Croatian, the journey to Oradea, especially in Hungry, seemed very familiar to me as the houses and buildings were similar to those in Croatia. I was also pleasantly surprised to hear the first song on the radio in the minibus was a well known hip hop song by Luniz, 'I Got 5 On It'. We eventually crossed into Romania and it was very clear to see that Romania's side of the border was much busier.
We finally made it to our accommodation after a short walk from the bus station, whilst occasionally stopping so I could take photos of some beautiful and colourful restored buildings. After a quick break in our accommodation, where Alexia kindly insisted I'd take the larger green room with a beautiful layout, we went exploring the town whilst the sunshine was still out. We walked along a shopping street in the town centre and saw small stalls where people were selling traditional brooches, Mărțișor, that women receive on the 1st of March to symbolise the first day of spring and wishing prosperities. That night, we met up with Monika, a Local Partner, where we both got to know each other over dinner at a restaurant called Taverna.
Day 2
The second day started with a breakfast that had quite a few vegan options, which made me extremely happy as I am a vegan and I do enjoy breakfasts. Despite having the sunshine the day before, rain and snow fell for most of our second day, but the weather did not stop Alexia and I with getting on with our day. In the morning I quickly did some souvenir shopping and helped Alexia prepare for the top-up training that was delivered to teachers at Centrul de Educatie Incluziva in the afternoon.
14 teachers attended the top-up training, a mixture of those who already use music in their work and those who were interested to learn more. Monika and Alexia covered theories and techniques of music therapy (such as, Attunement, unconditional positive regard, being child-centred, etc.), which was a great introduction to the use of music for me. All teachers were engaged throughout the training and expressed how they were reminded of how powerful sound can be. Once the training was over, I was met with such friendliness when chatting with most teachers, and Alexia and I were kindly given gifts made by their students (candles and a Mărțișor). One thing I took away from the Local Partner Support was that it was great to see Monika taking leadership of the project; I felt the project did not only fulfil Music as Therapy International's commitment to Sustainability but also Capacity Building.
Before the end of the day, Alexia and I headed off to a restaurant specialising in Asian cuisine where it was my first time tasting an unusual mushroom, called the 'woodland ear mushroom'. This was quite a big step for me, as I don't actually like mushroom.
Day 3
The third day was the first day to the start of a very busy weekend of the Intensive Study Weekend taking place for students on the Distance Learning Programme course. Out of 12 students, 11 were present and besides me, there was an additional person, a music therapist, who was also participating in the training to get an idea of what the Intensive Study Weekend entails. The training started with introductions and a musical activity, which led to a buzzing energy that filled the room and every student appeared engaged in all conversations. The first day of the training covered certain theories, approaches (OWL: observation; waiting; and listening) and techniques of using music (acknowledgement; imitation; and development). Videos where shown to illustrate elements of music therapy and how music therapists apply OWL and techniques to their music sessions. From observing videoed music sessions, it was very interesting to learn that music therapists are always carefully crafting everything for their sessions, from the room layout to every action and interaction with those they work with. The first day of the training ended with an activity giving the chance to a few students to conduct some music-making spontaneously and to enter into a world of free-play. The feedback given by students through anonymised evaluation forms were very positive, which I believe to be only fair as Monika and Alexia were excellent at teaching.
Day 4 and 5
The second day was packed with musical activities to give students the chance to work on the practical side of using music. I really enjoyed the first musical activity in which students were given the choice to play an instrument that made a sound representing their mood. So there was one group who played loudly and there was the other group who played quietly. It was a great activity because it made us explore the various emotional reactions each person encountered when playing or hearing the other group play. It also allowed us to open our minds to the possible emotions children, who the students will be working with, may feel towards music-making. As the day went on, there were numerous role-play activities; one was where students worked in pairs and took turns in being a session leader and child. Role-play also happened between some students and Alexia whereby the students acted similar to some children they worked with. It was then when I witnessed how powerful music can be, almost magical, as none of the students could resist engaging in play with Alexia. More role-playing occurred and everyone participated in a group activity shown by Monika, where she presented clever tips for keeping children engaged and encouraging interaction between children. The final activity for the day was making music all together whilst putting into practice everything that was learnt, which made the training end on a high note. Some students expressed that during the final activity there were moments where they were fully engaged with the music-making but also became lost in their 'own world', and so they "enjoyed being free to do as they pleased". The training ended with group photos being taken and where I learnt that even Romanians use the word 'cheese' when taking photos.
The day whizzed by and before I knew it I was on an overnight sleeper train to Bucharest, where it was extremely hot and I was having another new thrilling experience. Despite having a disrupted sleep at moments in the night, especially when the train was going over a mountain, I actually woke up in the morning feeling refreshed and energised to return back to the UK. Alexia had in store a final question for me about the Intensive Study Weekend whilst we were boarding our plane, which was if I thought I could do what the DLP students were doing and I confidently replied "Yes".
Reflecting back on my travels to Romania, I'm truly grateful for having the opportunity as I not only learnt a lot about using music but also, most importantly, what the delivery of some of our projects involve. The experience was very useful for the part of my role that entails project coordination.
Related projects
Introductory training
2020

Distance learning programme: Romania 2020

Romania