Update of the Intensive Study Training in the Occupied Palestinian Territories
Occupied Palestinian Territories
Disability
Children
Mental health
Projects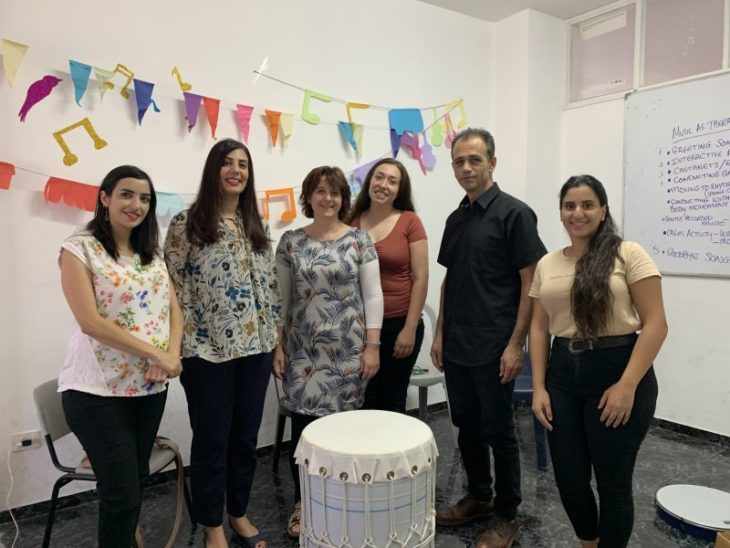 At the end of last month, music therapists Liz Coombes and Saphia delivered our 2-days Intensive Study Training to 5 students on our Blended Learning Programme in the Occupied Palestinian Territories. Read Liz's blog (below) to get more of an insight!
It was a gloriously sunny day when we arrived in Bethlehem. Blue skies welcomed us to Manger Square as we checked into the traditional guesthouse for our stay. We were looking forward to delivering the Two Day Intensive Training, part of the Blended Learning Programme that MWB and MasTint run in partnership.
We had five trainees all ready to participate in the training the next day. They had a wide range of experiences between them, from education, social work and psychology. Several of them had clinical backgrounds, working in rehabilitation services for children and their families. Others work for Sounds of Palestine, a project bringing the benefits of music making and orchestral playing to local children.
On arrival in the training centre we were given beautiful name badges that had been created for us by Wala a graduate from the previous years training. These set the tone for the care that had been taken to ensure everything ran as smoothly as possible. Pastries and coffee were provided to set us up for a busy day.
Trainees were highly engaged, and we talked about how they were selecting members for their groups as the first day progressed. Practical activities using voice, instruments and props were demonstrated, and we watched film of music therapists as well as music as therapy practitioners to learn about theory and how to translate this into practice.
The second day brought more of a focus on role-play. Working in pairs we looked at attuning musically, responding to the musical offerings of a partner. Then we explored how we might manage more difficult situations in music groups – Saphia had her work cut out when I was the 'naughty' one!
All in all, trainees reported they had experienced an excellent couple of days training, complementing what they had already learned in the online assignments. They are looking forward to starting their practical work, and we are looking forward to finding out how they get on.
Related projects
Introductory training
2019

Distance learning programme: OPT 2019

Occupied Palestinian Territories

Disability
Children
Mental health