Fabienne's story
Occupied Palestinian Territories
Children
Mental health
Young people
Disability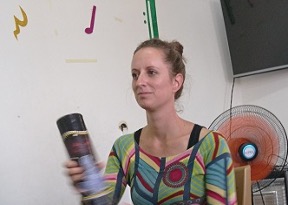 Fabienne van Eck is a Dutch musician and project manager for Musicians without Borders, an international charity working with marginalised children in refugee camps in the Occupied Palestinian Territories.
In 2014 Fabienne approached us on behalf of Musicians without Borders, as they were meeting a growing number of children with greater needs than they felt able to address using their current approach. They wanted targeted training to give their social workers new skills to work with these difficult-to-reach children living in refugee camps, isolated villages and hospitals.
In response we extended our Distance Learning model to the region, with Fabienne among the first cohort of students. Her training not only gave her new skills, but introduced Fabienne to a new way of viewing and managing the challenging behaviour of many of the children the charity worked with:
One of the boys with some challenging behaviour was treated in a very gentle way… While such a boy could easily become the 'trouble maker' in a classroom, here he could feel accepted and loved

Fabienne van Eck
Following her introductory training, Fabienne expanded her role to take on aspects of local leadership; coordinating the course, liaising with other organisations and caregivers who were interested in training, and taking on responsibility for moderating the written assignments completed by some of the students each year.
Thanks to her commitment and hard work, we have welcomed dozens more caregivers onto the training course who benefit from the same learning that made such an impact with Fabienne. Most importantly, our partnership has created opportunities for thousands of children to access interactive music-making as part of their care and education.
Music as Therapy International's training has changed the way we work with children. The charity's commitment to partnership and sustainability is a true example of best practice for international development

Musicians without Borders
Related projects
Introductory training
2019

Distance learning programme: OPT 2019

Occupied Palestinian Territories

Disability
Children
Mental health

Distance learning programme evaluation 2019

Occupied Palestinian Territories

Disability
Children
Mental health

Introductory training
2018

Distance learning programme: OPT 2018

Occupied Palestinian Territories

Children
Disability
Mental health