Distance learning: Evaluating progress
Occupied Palestinian Territories
Children
Disability
Mental health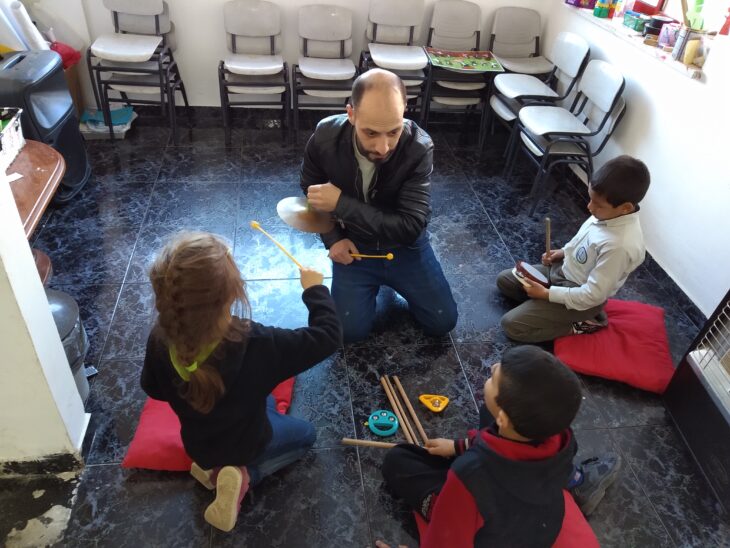 In 2019, following three years of delivering our Distance Learning model to caregivers, teachers, social workers and community musicians in the Occupied Palestinian Territories, we completed a two-year evaluation of our training. The aim was to better capture the impact of our training and understand more about what our Local Partners' ongoing needs might be. 
Working in partnership with Musicians without Borders and Sounds of Palestine, music therapist Saphia Abou-amer travelled to Bethlehem to interview graduates from the first two years of the course, as well as the most recent students. Saphia also observed our Partners' music sessions to see which skills had become embedded and assess where further training could be useful or relevant. 
One of the first themes that arose from these interviews were feelings of fear and uncertainty among the students – something common across many of our projects regardless of the context.
I was excited and scared because I know it will be difficult, but it was like a challenge for me to do it

Distance learning student
Yet as Saphia's questioning continued with our Partners, key skills, knowledge and understanding became almost universally evident. Every person asked spoke of learning about the importance of unconditional positive regard. Given the socio-political tension in the region, this was seen by many as crucial to their work with children.
I think of course the key thing that we always talk about, unconditional positive regard. A lot about really focusing on the child's behaviour, accepting, being with the child where the child is.

Distance learning student
The group of caregivers also communicated a perfect illustration of how the core concepts of interactive music-making can have a knock-on benefit outside of the music sessions themselves. Many of them explained how they were using the principles of their training not just in their professional practice, but in their personal relationships, too.
I use unconditional positive regard with my family … it help you to change in better way … you'll start think in different way.

Distance learning student
Importantly, the evaluation gave us the opportunity to learn what support our Partners wanted in order to continue using music. With many of them expressing a desire for more workshops and tutorials to develop their skill and understanding, it enabled us to focus on prioritising these needs to champion the sustainability of the practice in the region. Crucially, knowing our Partners were motivated to improve and continue using music was a further endorsement of our training.
Related projects
Distance learning programme evaluation 2019

Occupied Palestinian Territories

Disability
Children
Mental health

Distance learning programme evaluation 2018

Occupied Palestinian Territories

Children
Mental health
Disability