World Congress of Music Therapy – Tsukuba, Japan
Other International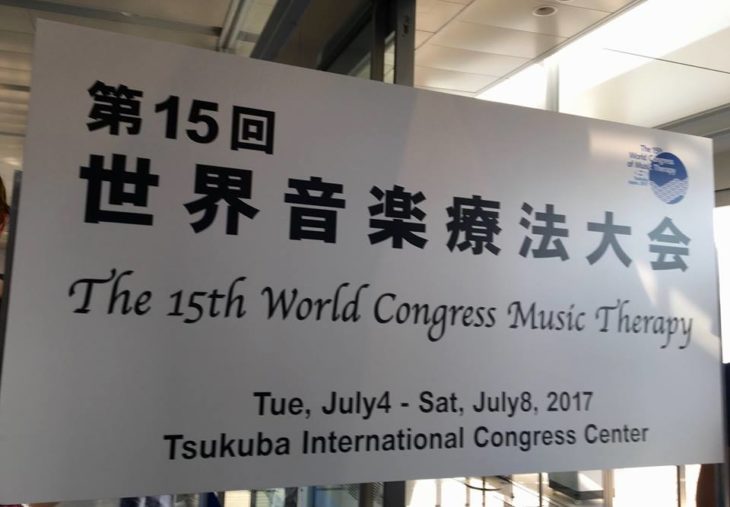 I have just returned from the World Congress of Music Therapy in Japan, honoured to have been presented with an award at the opening ceremony [World Federation of Music Therapy Advocate of Music Therapy for major contributions to the promotion of music therapy in areas of the world where the profession is less established]. It is something I felt I accepted on behalf of all the fantastic music therapists who have led our projects over the years.
The following three days were packed with wide ranging presentations with 2,500 international music therapists in attendance. It was a great opportunity to explore a number of potential future collaborations both for projects in the UK and Internationally.
It was also interesting to see more and more people discussing the role of music therapists sharing their skills with care givers (both family members and professional care staff). International research in this area is at an early stage but I believe our practical experience from the last 20 years means that our thinking could really inform what is now being explored. I would love us to be able to contribute to this relatively new area of development within the music therapy profession. It was heartening to hear it being discussed by people from the United States, Japan, Australia, Tasmania, South Africa, Denmark, Norway, the UK and beyond.
Presentations and conversations throughout the week also gave me an opportunity to hear how different music therapists are considering their role within international development. I was proud to recognise how the combined wisdom and experience of so many music therapists delivering projects and contributing to our work at a strategic level for so many years has given us a reputation for strong practice, and I felt the ways we work certainly showed our thinking around sustainability and sensitivity to be very well developed.
I'm delighted to be returning to the office with a wider network of music therapists and organisations international with whom to explore new projects and collaborations (as well as a beautiful glass award to brighten our office!).
Alexia Quin
Related projects
Capacity strengthening
2017

Conference Participation: World Congress of Music Therapy (Japan) 2017

Other International

Adults
Children
Dementia
Disability
Elderly
Mental health
Young people