Applications are now open for our Interactive Music-Making training course!
United Kingdom
Children
Disability
Projects
Recruitment
IMM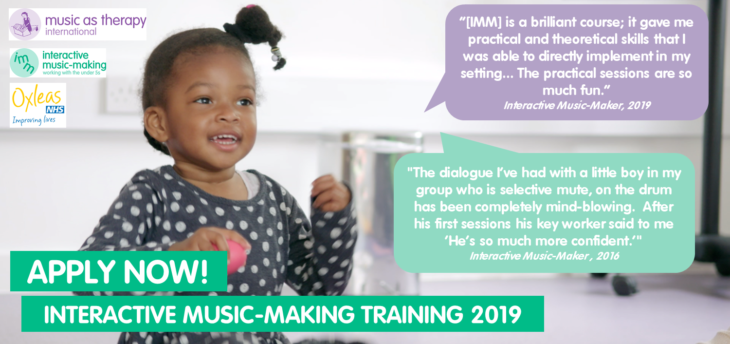 Do you work in or manage an Early Years setting? Are you interested in how music can be used to enhance the social, emotional and cognitive development of children under five?
Our unique training course teaches practitioners how to run music sessions using techniques drawn from music therapy (no musical skill required!).
Learn more about IMM, and find out how to apply, on our dedicated website.
Applications for self-funded and subsidised places are welcome until 2nd August 2019. Our IMM Award Scheme offers a small also number of fully-funded places to settings on a needs assessed basis.
Any questions about Interactive Music-Making? give us a call at 020 7735 3231 for an informal chat, or drop us an email at freyagibbs@musicastherapy.org … and remember to share this post with your Early Years colleagues!
Related projects
Introductory training
2019

Structured training: Interactive Music-Making (London) 2019

United Kingdom