Applications now open for Interactive Music-Making 2022-23!
United Kingdom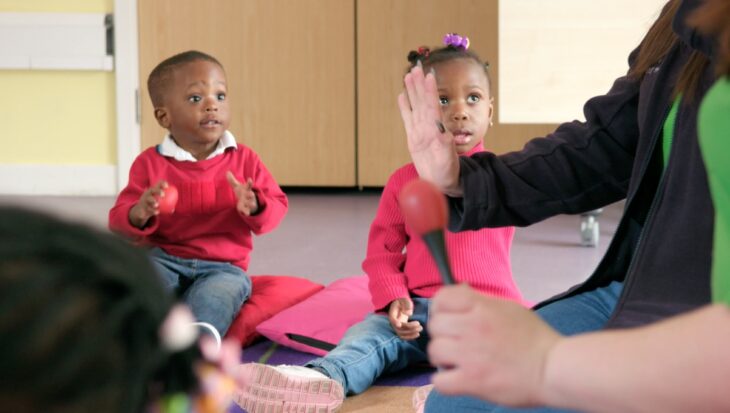 Interactive music-making is a child-centred approach to music-making, promoting positive relationships and fostering each child's individual potential. No musical skills are required! Drawing on music therapy techniques, the course teaches early years practitioners an approach designed to make music an integral part of children's early development opportunities.
Run in association with Oxleas NHS Foundation Trust, the course was Highly Commended in the 'Inclusive Practice' category of last year's Nursery World Awards.
The part-time course will begin in September 2022, with weekly 3-hour seminars and practical workshops held in South East London from 12-3pm until early December. From January-March 2023, students are supported by course tutors to put their learning into practice in their own early years setting, with the course completing in May. If you work in Early Years and would like to join the course, you will need to complete a Student Application Form.
Full course fees are £695. However, our Interactive Music-Making Award Scheme remains available to those who need financial assistance to undertake the course. It includes full course funding, a contribution to cover and/or travel, and a set of musical instruments to equip your setting. The Manager of any setting wishing to apply for an IMM Award will need to complete the Award Application Form and submit it alongside the Student Application Form completed by the practitioner who would like to join the course.
If you are not eligible for an award and you cannot afford the full course fees, subsidised places can be requested. Please complete a Student Application Form and indicate the extent to which you require help with the course fees.
More information about the Interactive Music-Making approach and training can be found here.
Any questions? Just get in touch: elsahariades@musicastherapy.org
Related projects
Capacity strengthening
2015

Interactive Music-Making: Early years film 2015

United Kingdom