Launching our UK Partner Newsletter!
United Kingdom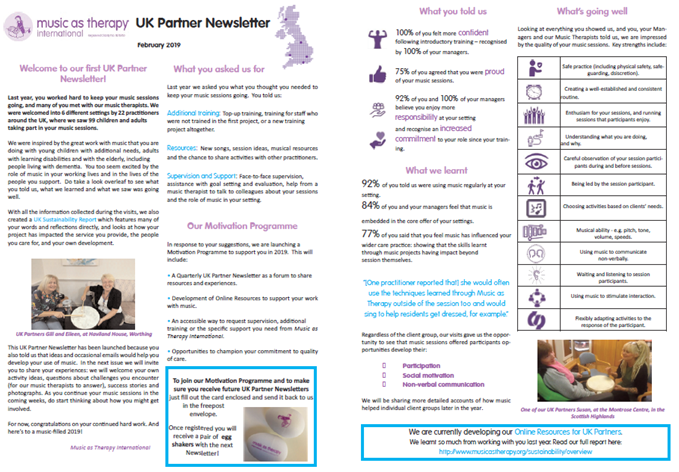 'The Newsletter is great! Useful feedback in a format that works well for busy practitioners.' – Ali McKenzie, Early Years Lead at Waterways Nursery
…
This February we are sending out our very first Newsletter to all our Partners across the UK, from the Highlands down to the South East Coast.
If you're a practicing UK Partner then you should be receiving your own copy in the post very soon… Remember to fill in the contact card to sign up to future newsletters, and to receive your free Music as Therapy International egg shakers!
The Newsletter is part of our 2019 Motivation Programme: we wanted to celebrate and support our Partners, many of whom are still practicing 2-3 years on from their original projects. It allows practitioners to keep up to date on each others' progress, and gives them the space to ask questions and share ideas, challenges and successes. The Newsletter is one of the products of the UK Sustainability Review, which we conducted in 2018, asking our UK Partners what support they needed to keep music going in the coming year.
UK Partners: take a look at the online copy while you wait for your own (however, all other interested parties are invited to have a look and feedback too).
If you have any ideas or questions to share in the next Newsletter please email freyagibbs@musicastherapy.org – we'd love to hear from you.
Related projects
Motivation programme 2019

United Kingdom