Spring UK Partner Newsletter!
United Kingdom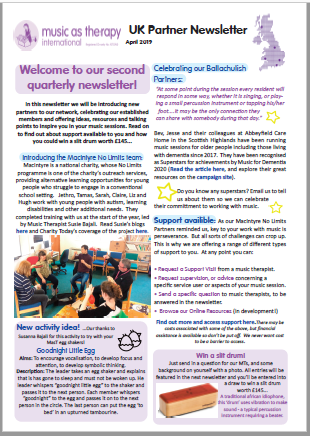 Last week we shared our Spring Newsletter with all of our UK Partners, along with a free pair of Music as Therapy egg shakers for everyone who signed up.
This newsletter looks at celebrating partner practitioners, new and old, for their dedication to music sessions. We share top tips and new activities, thanks to our MacIntyre partners, and look at our Abbeyfield Superstars whose local development of their music sessions means they are still impacting residents two years on from training. This issue features our new music therapist 'question corner' with lots of ideas and inspiration in answer to a much asked question, 'how do i stop my music sessions going stale?'
We also link our new UK Partner Support Mechanism, share and evidence base for those working with dementia, and share competition details to win a slit drum worth £145…Sign up yourself by emailing freyagibbs@musicastherapy.org – and receive your own pair of MasT egg shakers.
More information on the resources available to our UK partners is accessible on our new UK Resources page. We are already planning the next newsletter and look forward to sharing it with you!
Related projects
Motivation programme 2019

United Kingdom